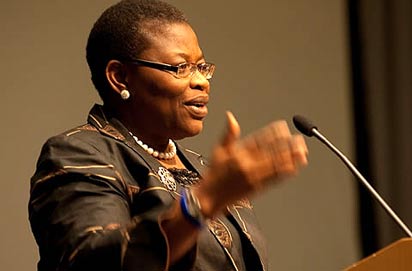 Dr. Oby Ezekwesili
Erstwhile Vice President, World Bank,  Dr. Oby Ezekwesili, will give keynote address at Women in Successful Career (WISCAR) annual event.
WISCAR is a not-for-profit organisation set up to counsel, mentor and enable career women realise their full potential and contribute to organisations and the nation.
The annual event scheduled to hold on November 29, is themed "Pioneering Women: Initiating, Leading and succeeding."
In a statement, WISCAR said that it will graduate its fifth stream of 2014 mentees and induct the sixth stream of mentees for the 2015 at the event.
Speaking on the event, Founder, WISCAR, Mrs. Amina Oyagbola, said that the 12 months mentoring programme is designed to have a transformational impact on its mentees, enhance their performance and progress them up the career ladder.
Oyagbola who is also the Human Resources Executive of MTN, stated: "WISCAR aims through its unique, structured and formal WIN with WISCAR mentoring programme to equip women with the necessary skills and tools to be successful. WISCAR helps to develop and build capability in women in the workplace at the personal, interpersonal and organizational levels.
Our goal is to promote and enable the emergence of the next generation of women leaders that contribute to the success of organizations, are valuable role models and agents of positive change within their respective organizations and Nigeria
She added that the event will highlight the importance of ensuring an equal opportunity for men and women to contribute to the growth and development of the Nation by showcasing pioneering and successful women, the difference they have made, how they did it and celebrating their achievements.