By Chioma Obinna
Health Professionals have called for review of curriculum of medical education in Nigeria in line with trends in medical education as well as the changing conditions in the healthcare delivery system of the country.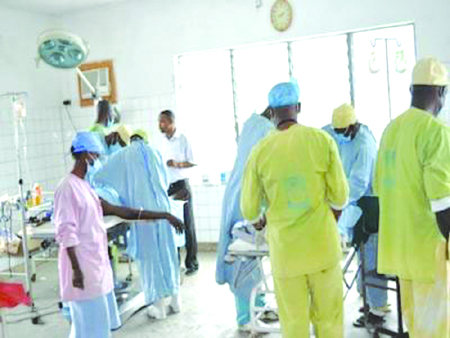 The experts are also of the view that the mission and objectives of medical education should be determined by priority health needs and health problems prevalent in the community and the country at large.
Making these recommendations during the 35th Reunion Banquet/Lecture of the College of medicine University of Lagos, CMUL, "79 Class" in Lagos, the Vice Chancellor, University of Nigeria, Nsukka, Prof. Benjamin Ozumba posited that medical education needs to be planned and implemented with full awareness of the aims and demands of the health care services.
Ozumba noted that the review has become necessary as greater numbers of medical institutions in Nigeria are currently experiencing difficulties in providing the right quality and quantity of education due to underfunding, inadequate and obsolete facilities, absence of experienced and dedicated teachers, increased cost of schooling, lack of update training for teachers and rapidly deteriorating good morals and core values.
He said the necessary shift from traditional approach to a needs-based approach requires a fundamental change of the roles and commitments of educators, planners and policymakers. Ozumba who stressed that the current trends in medical education cannot be overemphasised explained that it helps preparing doctors to fulfil the expectations of society, cope with the exponential growth of medical and scientific knowledge, inculcate physicians' ability for lifelong learning and ensure they are mastery in information technology.
In his lecture entitled: "Wanted: A New Medical School Curriculum that is holistic, Competency-based and Patient Centered for Nigeria", Ozumba said the design and implementation of the curriculum should demonstrate that content and balance of the curriculum and its assessment matches the explicit objectives of medical education.
"The core curriculum should be system based and integrated, to break the rigid pre-clinical/clinical and departmental boundaries. Community health care should feature prominently in the curriculum, encompassing health promotion and disease prevention, assessment and targeting of population needs, and awareness of environmental and social factors in disease. Special emphasis should be given to priority community health needs and issues. Medical colleges should have continuous and inbuilt curriculum evaluation mechanism to receive feedback from the stakeholders and to bring changes accordingly. "
In her remarks, the Provost of the University, Prof. Folashade T. Ogunsola who was represented by Prof. Jane Ajuluchukwu lamented the dilapidated facilities of medical colleges and called for the review of medical education curriculum.
Stressing that many of the students are indigent, Ogunsola appealed for assistance in a way of scholarship for such students as well as support for teachers' development through medical education.