…As hawkers use First Lady's name to peddle influence in Ilorin
By Soni Daniel, Regional Editor, North
There were indications yesterday that Governor James Ngillari of Adamawa State,  might have been drafted into the governorship race despite being barred from doing so by the Peoples Democratic Party, PDP.
Ngillari, who became gov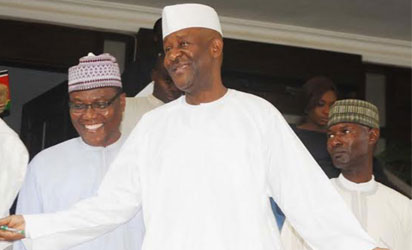 ernor last month on the orders of the court which sacked Ahmadu Fintiri, is from Adamawa North Senatorial District of the state, which has been producing all the governors of the state while Adamawa Central, which the PDP has zoned the seat to has never produce one since its creation.
But a source close to the governor said he had been under immense pressure by some influential politicians in Abuja to join the race so as to stop the Central Senatorial District of the state from producing the next governor of the state in line with the NWC's decision.
The politicians are said to have told Ngillari that they were under the instruction of Mrs Patience Jonathan, to install him as the governor of the state so as to fence off other candidates.
The use of the First Lady's name, it was gathered, immediately emboldened Ngillari, who dispatched a trusted allies, Lawrence Ngbale, to secure the nomination form for him while pretending to have abided with the NWC's decision.
Finding showed that Ngillari's nomination form is marked No. 178 0378 and had been registered at the Wadata Plaza, which had earlier asked to not to collect the form.
A top source in Yola told Vanguard in confidence that the NWC was in a dilemma following the claim that it was the First Lady, who gave the order that the governor should jettison his senatorial ambition for the governorship next year.
The source said: "It is true Ngilari has obtained his nomination form and is banking on First Lady's support who assured him of the PDP ticket.
"The governor was reliably told that the wife of the President had directed him to purchase the governorship forms which he immediately did through proxy. The Governor has since returned the form.
Although there were fears that Ngillari would not get enough support to win even the primary election, having not done well at the ward congress last week, the source said influential elements working for Ngillari had assured him that the delegates list would be altered at the 'highest level' to accommodate his interest once an order was given.
The alleged intervention of the First Lady in the state gubernatorial race is said to have strengthened the governor to repudiate on his earlier decision on the zoning deal brokered by Senate President David Mark, to contest at the last minute, thereby threatening the chances of the PDP in the state.