By Charles Kumolu & Gbenga Oke
ERSTWHILE Speaker of Delta State House of Assembly and a governorship aspirant on the platform of the Peoples Democratic Party, PDP, Chief Victor Ochei, in a session with Vanguard's senior editors ventilates on his recent political experiences, his resurrection and vision for Delta State. Excerpts:
WHY did you describe yourself as Speaker Emeritus?
In the history of Delta State, I remain the only speaker who resigned and it (resignation) was read on the floor of the House. Every other speaker was either impeached or finished his tenure. I remain the only speaker, who resigned voluntarily.
I gave my reasons for resigning and the reasons were accepted. I gave way for a new leadership to emerge having contributed my quota. I feel a bit immodest to say I performed, but those who followed my era would attest to the kind of innovation I brought to the House.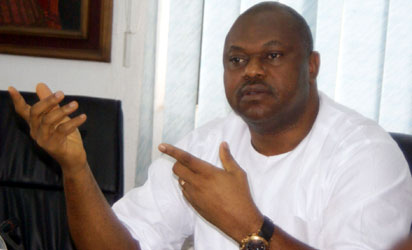 Today, Delta State House of Assembly can rank among the best in the country and can compete with any other legislative house globally.
How he joined politics: I am an engineer and a law graduate because I am yet to be done with law school. I am a business man by profession and philanthropic by nature. In the year 2000, I was fed up with being a government contractor, which I had been right from the military days. I decided that I was going to go for a higher challenge.
Higher challenge
When I told a friend he was surprised. It all started like a joke but it blossomed into my decision to contest for the House of Assembly. I come from a constituency which as at the time when Chief James Ibori was the governor, was a predominantly PDP constituency. The then deputy governor is from the constituency, one of the most influential commissioners then, Chief Nkem Okwuofu is from my constituency, my predecessor whom I defeated hailed from there. We also had the House of Representatives member at that time, Prince Ned Nwoko, coming from there.
The local government chairman and the clerk of the House of Assembly were from there. It was as if anybody wanting to contest against the PDP then was going to go against the trend. I was a PDP member, but I was not given the opportunity to participate in the primaries. I decided to contest under an obscure party, United Nigeria Peoples Party, UNPP. The PDP won all the elections in that constituency except my election.  I won my election. It was a miracle because I was the only UNPP person that won a seat in the entire Southern Nigeria. That told me that the win was not ordinary. I did not bring myself to victory. So, for it to have happened was not ordinary.
Encounter  with Uduaghan
Another thing about my victory that showed that it was not ordinary was my encounter with the present governor, who I had known when he was a commissioner for Health. We have a common friend. And three weeks to the election, I met him at our friend's house. I told him that I was contesting election into the House of Assembly. He asked the person I was contesting with, and I said the majority leader. He asked about the platform I was using and I said UNPP. He said I would not win. He also said he would not support me neither will the governor. He said the party will fight me that I wanted to disgrace the then deputy governor who comes from my constituency.
He said I should forget about victory because the area is a predominantly PDP zone. I asked what if the people supported me. He said that he was not saying that I would not win but that it was going to be very difficult. I left the room obviously not happy. When we met after the elections as a member-elect after the event, he was surprised that I won.
He said that my victory had thought him a political lesson. That is why if you go to Governor Uduaghan to ask if you should run for an office or not, he would not give you a definite answer. That was how I started. I later went back to the PDP. I was elected three times and I later became speaker. I was speaker until March 18, 2014.
On comments that he was forced to resign
I did not resign under pressure. The fact remains that at some point there are decisions that you must take in the interest of the state. You have to look at the collective interest before making such decisions. It was not that someone asked me to resign.
Have you consulted with the state's political leader, Governor Emmanuel Uduaghan and what is his response?
I have consulted with the governor. The same thing I told you was the governor's response. It is not in his style to tell you to run or not to run. I have consulted with him and he is in the know.
Do you think the necessary institutions have  created a level playing field for all the aspirants?
It is the party's responsibility. If we make a mistake, we stand the risk of allowing the opposition to have a field day.
Level playing field
For me, I only ask that the party provides a level playing field for everyone to participate. Whether the governor is supporting anyone, I will say that as a Deltan, he has the right to support any candidate of his choice. As governor, his influence is huge.
But Deltans will still decide who the governor will be. Delta is a place where people are very expressive and things are not always what it seem. He has the right to support anyone but that does not foreclose the right of Deltans to make their choice.
What have you done for your people that will make them support your governorship aspiration?
I have been in the Delta State House of Assembly thrice as a member representing my constituency, Aniocha North and meritoriously too because I am the first person to have represented that constituency thrice since creation. So you cannot do that if you are not popular. If I have come to power by force, I am sure they won't have voted me thrice.
How true is it that you diverted power meant for your community to your factory?
I had said it that if that question was not asked, I will put it forward myself because it is the current decimal that people have begun to say as if it is true. It all started during the 2011 elections when some people started saying that I was the owner of the company along the Express Road (Benin – Asaba). On my honour, I don't know who owns the Iron smelting company and I don't have any interest in the company. I dare say let them bring evidence if I have anything to do with the company, I am ready to resign if the company has anything to do with me. It was easy for them to say I diverted power from there to my constituency, but I dare say that even Ogwashi-Ukwu where the Finance Minister is from, for two years they have not had electricity.
So, how will Ochei divert power for his own personal use? That is what people don't understand but if they understand these things very well, they will know Ochei has no business with it.
I have not allowed it to bother me as a person but when people begin to talk about it, you have to educate them to let them know you have no business with it. So I hope the people will understand the dynamics of power and that I have no business whatsoever with it.
On his involvement with Sports in Delta state
I am a sports promoter. Whether in office or out of government, I am a lover of sports. I believe it's a way of putting generations forward, preparing them for a tomorrow that will come. Sports is a machine or panacea that makes people come together, you can see that when Nigeria is playing, everybody comes together and support the country irrespective of their differences. I believe we must support such that makes people calm and we keep investing in it because it has effect on people. It also makes people healthy and it makes other people happier, stronger and which is why I veered into special sports. I realize that you give these special people hope when they play these games and you will be surprised about the enormous potential those special people have within.
On allegation that he was imposed as speaker
It is not true. There was an election in the House of Assembly in June 2011. I was running then and my predecessor was also running and I met with him and spoke with the DPP members then. When I assumed the speakership, we had 11 DPP members out of the 29 members of the State House of Assembly who were proper opposition. The Governor couldn't give them directions because they were not part of the party. We went into the field and did the canvassing but at the end of the day, the same man who was contesting with me, my predecessor, was the one who nominated me and it was unanimous. So there was no imposition.
On why some governorship aspirants met last weekend
I was called by Chief Kenneth Gbagi that there was a meeting of aspirants in Warri. One thing is that we are all aspiring to be Chief Executive of the state and if we decide to meet, that shows we are not at each other's throats. I know certain states where aspirants cannot even talk to themselves because of the kind of contention among them.
The bottom line of the meeting was to ensure that there is no imposition on the party. But basically the meeting did not get the kind of quorum that we wanted because a lot of aspirants had events that weekend, it was not well attended as anticipated. So instead of deliberating, we said let's go and meet with Chief E.K Clark who had been waiting for us and since out of respect there was no way we could keep him waiting. We plan to hold the meeting after the Presidential declaration.
Presidential declaration
There was no time we discussed the eligibility of any aspirant, the only thing we discussed is shifting the meeting to Abuja on Tuesday. I think we should applaud the fact that Delta aspirants are meeting.
You were once considered the foremost aspirant to succeed Governor Uduaghan. What happened?
At a time, I was truly a foremost aspirant and as at that time, I was the speaker of the House and believe me, I was under pressure to run and though I had not said I was running then but the attacks kept coming because as speaker, I was doing well. This our forum of aspirants believed then that I will be used to silence them, so I was prone to attacks unfortunately.
I was foremost because being a speaker, I had a lot of constituencies under me and my colleagues were fully supporting me. Ever since I left office, yes it has not been the same because some now felt because I am out of office, he has fallen from grace, the governor removed him from office, and will he want him as governor?
There were insinuations here and there but also, some other people now said after-all he is not the governor's candidate, why shouldn't we support him? For me, there are a lot of lessons that came from it, what happened has made me learn a lot of lessons, seeing people in their real nature and seeing how people react in the face of the good, the bad and the ugly. They are all lessons that we must learn in life and it has strengthened me and reshaped my focus as a person. The Bible says once has God spoken and twice have I heard that power belongs to God, and that is why I don't even regard that power belongs to anybody.
Power belongs to God. In all of this, there is no animosity within me, I have nothing against anybody, it is human nature. Even the bible says the heart of man is desperately wicked and deceitful and who can know it. It is just human nature. So you begin to see it and appreciate it that it can really happen to you. For those who are jumping today, if anything happens to President Jonathan today, you will be shocked about the kind of reverse people will take. But that is human nature.
For me, I have gotten my own fair share and I have learnt and it has helped me get back on my feet. I have fallen from grace, I have gotten to the ground and I have also taken that leap of faith to where I am. I say today that no aspirant will go through the tribulation that I went through and will still come out as a fore-runner.