By Providence Obuh & Juliet Ejidike
The Central Bank of Nigeria (CBN); Chairman, Dangote Group, Alhaji Aliko Dangote; Chairman, Honeywell Group, Oba Ayoola Otudeko; Mazi Sam Ohuabunwa and other eminent Nigerians have called for ways to pursue revolutionalising entrepreneurship in Nigeria.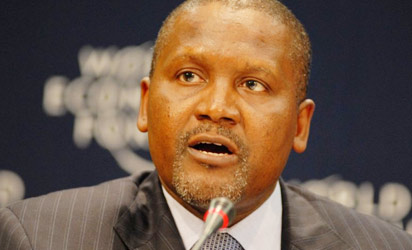 They argued that entrepreneurial development in Nigeria remains a far cry when compared to other developing countries in the world noting that for the economy to grow, there should be more focus on the private sector and less reliance on big corporations.
They said this in Lagos during the African Centre for Business Development, ACBD, summit titled 'National Summit on Entrepreneurship and Innovation.'
In his address, CBN Governor, Mr. Godwin Emefiele, said that without entrepreneurship skills being developed for the youths, it will be difficult to develop the economy.
Emefiele, who was represented by the CBN Deputy Governor, Corporate Services, Mr. Adebayo Adelakun, said, "We are over 170 million in population, if we add it together, all the employees of big corporates that we have is less than half a million but if you go to a place like China, on a particular street, you can see over 500 small companies employing 20 to 100 and if you add all these together, it is a large number."
He, however, said "SME businesses anywhere in the world serve as potent force for job creation, poverty alleviation and healthy economic growth. A key example is the Chinese economy where SMEs actually led their industrial revolution. For an economy to grow, sole reliance should not be placed on big corporations alone. It is the cluster of small businesses that can provide the level of employment required in our kind of economy. If government is able to provide the kind of atmosphere that is required for establishment and growth of this kind of small companies, I believe the rate of unemployment will be reduced in Nigeria."
In addition, he said "in most developed economies of the world and even emerging economies, the major drivers of job creation, employment is the private sector through the efforts of individuals and corporate. The role of government is limited to creation of social infrastructure and conducive environment that will facilitate entrepreneurship and corporate in establishing industries," he said.
On his part, Dangote, who was chairman of the summit argued that despite Nigeria's economic status, "the level of unemployment in the country is high."
According to him, Nigeria has an attractive market but barriers to entry are high, posingcausing challenges for investors.
"He said "MSMEs drive job creation and innovation, however, access to finance for growth have hindered their growth over the years. Over 80 percent of MSMEs in the country are funded from personal savings and this is not helping for the growth of our economy. There is urgent need to address the constraints on SMEs to ensure they flourish.
Advising entrepreneurs to build competences , he said "beyond every challenge is a great opportunity waiting to be received."