By Umar Yusuf
Yola— No fewer than 35 people, including five military personnel and a local hunter, were said to have been killed by a bomb explosion yesterday morning around Mararaba-Mubi area of Adamawa State.
An eyewitness told newsmen in Yola, the state capital, that a combined team of the military and hunters were on routine patrol of the area following their successful recapture of Mubi town when the bomb planted by the insurgents exploded, killing 35 of them instantly.
According to the eyewitness, the scene of the blast was a busy area where people gathered to transact business, adding that the explosive might have been planted there overnight while it went off in the morning as people gathered there.
The eyewitness, who spoke to newsmen on phone, said the military had converted the venue of the blast to a checkpoint, since people were always at the spot in large numbers.
According to him, "my house is some metres from the scene of the incident. I stood outside my compound watching the suburb and all of a sudden, I heard a loud bang which shook the entire surroundings. The few people who were returning to the area started running away and the area was immediately cordoned off by the military."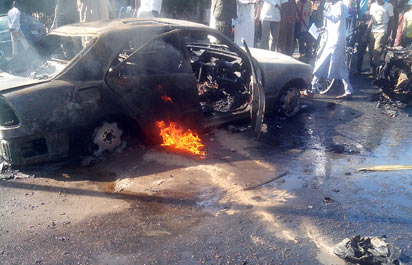 The explosion prompted the military authorities to declare the area "a no go place" and advised returning villagers and passers-by to be extra cautious along the routes.
The authorities also cautioned the people to be wary of strange objects and polythene bags within their reach, advising that they might be explosives fashioned out to look attractive for unsuspecting victims.
Meanwhile, hundreds of local hunters keeping vigil with the military in the recovered areas of Adamawa State have vowed to ensure that the sect members are completely chased out
The hunters, who were returning to the recaptured areas of Mubi and its environs, told newsmen, yesterday, in Yola that their major pre-occupation now was to ensure that the area is completely secured for the inhabitants to return to their homes.
The leader of the hunters, Young Moris, pledged that they will do everything to ensure that Michika and Madagali are equally rid of the insurgents very soon.
Subscribe for latest Videos