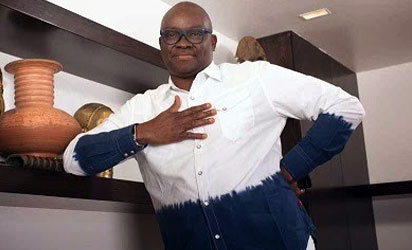 "Mr Governor, you are misbehaving".
Those were the words that forced Ayo Fayose to sink himself into a sofa.
That was in 2004.  He was then the governor of Ekiti State.  It was an informal meeting in the office of the then Managing Director of the News Agency of Nigeria, NAN.  There were just four of us – Akin Osuntokun, MD of NAN, Fayose; Segun Adeniyi, then Editor, ThisDay on Sunday; and I.  I was the Political Editor of Vanguard at the time.
It was meant to be an interactive session and we actually interacted.
"Mr. Governor, you are misbehaving", were my words in response to Fayose's patronizing comments about the position of Adeniyi on how he writes his column and the principles behind every article.
Fayose had tried to package Adeniyi, claiming that, as his friend, the editor would not take him on or be critical of him in his regular Thursday back page column.  To this, Adeniyi responded that his true friends know that friendship is just another currency in the realm of altruism; that he writes to uphold the truth and that when his friends misbehave, he writes about them in a very critical manner.
Looking a bit surprised by Adeniyi's retort, Fayose, the usually smart and fast talker, quickly said: "Okay, as your friend, I will not misbehave".
It was this claim by Fayose that he would not misbehave that made me jump at him in a split second: "Mr. Governor, you are misbehaving".
As if cold water had just been poured on him (in all honesty that was really a cold response), Fayose grabbed the arm-rest of the closest sofa to him and sank himself into it.
He then attempted to rationalize why he would always remain the essential Fayose, telling of his grass to grace story and the assault on his sensibilities by some leaders in the state who just could not come to terms with the fact that he was their governor.
A very touching story though, the reason for my response to him was that just a couple of months earlier, at another session, a few of his friends and some journalists had tried to appeal to him to tone down his seemingly over-charged disposition which was denying him of the necessary applause that should come his way in view of some strides he was making as governor – especially his appeal to the common man.  He was having some altercations with traditional rulers and he had been counseled to allow tempers cool. Barely hours after the session, Fayose jumped into another quarrel with yet another traditional ruler, further heightening tension in the state.  Prior to that meeting in Abuja that fateful afternoon, even Fayose himself knew that he had needlessly worked himself and his state into a frenzied situation.
But all these were in 2004.
Mind you, his sojourn ended in his impeachment as governor of Ekiti State. Whether the impeachment followed due process or not is for the courts to decide. But Fayose never challenged his impeachment in court, suggesting that he either agreed that he deserved to be impeached because of his serial acts of misbehavior; that he left everything in the hands of God Almighty; or that, perhaps, he was just fed up with the whole drama and wanted to walk away.
Whatever his reasons, he never challenged it.
Just 10years after, in a very rare fateful manner, Fayose has gotten a second chance as governor of the same Ekiti State.
Even before he was sworn-in, he had boasted severally that whatever he will do is what he will do.  Governor-elect speaking!
Yes, he has a right to do whatever he decides to do like all mortals – 'A man's got to do what a man's got to do'.
When the late great man of letters, Chinua Achebe, wrote his book, THERE WAS A COUNTRY, it was with a view to reflecting on years of waste, broken dreams and the ruins that is the nation Nigeria today.  From that title, we dare say, THERE WAS A GOVERNOR.
This piece would not concern itself with the enormous powers at his disposal as a state governor.
This piece would not also concern itself with all the accusations and counter accusations that are at best partisan and at worst trumped up.
What this piece would concern itself with, like all men of good conscience, is the madness – yes madness – that happened last week at the Ekiti State House of Assembly.
For a state that touts itself as 'FOUNTAIN OF KNOWLEDGE', happenings in the state lately suggest that knowledge has taken flight.  And in the absence of knowledge for which people suffer and perish, idiocy becomes the order of the day.
A Supreme Court judgment in 2006 had made it clear that the quorum for any legislative gathering refers to the quorum as reflected in the total number of elected members.
But because the Peoples Democratic Party, PDP, leadership in the country had already set a template as was the case during the Nigeria Governors' Forum, NGF, election last year, that 16 was greater than 19, the PDP legislators in Ekiti State took misbehavior a notch higher, albeit, egregiously.
In an assembly of 26 members, seven of them, using the instrumentality of the Ekiti State Governor's Office as alleged by Speaker Adewale Omirin, were escorted to the assembly by IGP Ibrahim Abba's boys. The seven members voted and impeached the speaker and his deputy and elected their own Speaker.
One Samuel Ajibola, who defended the action of the members, explained that the seven members had more than enough to carry out what can best be described as a debauchery.
It is established that to impeach the Speaker, you need two third majority.  Ajibola said the entire seven members were in support of the impeachment of Omirin and, therefore, had more than the two third majority needed.
Meanwhile, a Supreme Court judgment given in the case between Rasheed Ladoja, then impeached governor of Oyo State, and the state House of Assembly and Alao Akala, had established that the quorum and two third majority stipulated by the Constitution referred to the quorum of the entire members of the assembly and the two third majority referred to the two third of the entire elected members and not just those at a sitting.  This is information which should constitute knowledge.
The Ekiti-7 ignored this and launched their expedition in misbehavior. If it had all started and ended there, with Fayose maintaining a dignified silence, excuses could still be made for him.
But on television, when asked to review the events regarding the impeachment, he endorsed it.
He welcomed the development and even said he has already recognized the 'new Speaker'.
He then added that he owed nobody any apologies.
This was 10 years after the charge, 'Mr. Governor, you are misbehaving'.
Most people don't get a second chance in life.  Fayose had gotten his.
More profound was the nature of his victory against all odds.
However, psychologists would need to burrow deep into the inner workings of the mind of a man whose actions almost always elicit public opprobrium and yet, he persists.
Fayose need not look further to understand that he runs the risk of running himself aground if he persists along this destructive path, if he pauses, and takes a look at the dwindling fortunes of Mario Ballotelli, a footballer.  It was Jose Maurinho, the Chelsea coach, who told a story of how delinquent conduct could ruin a footballer's potentials.  His team, Inter Milan, was playing a match and needed to win. He was already suffering the non-availability of some key players,  At half time, Maurinho called the very precocious and combustible Ballotelli to a corner and pleaded that he should avoid committing any foul having already received a Yellow Card – mind you, Milan was already a man down.  Once the second half commenced, just within five minutes, a rush of blood to the brain caused Ballotelli to commit a silly foul; he was carded and sent off.
According to Maurinho, "I could not believe it".
From that point, Ballotelli's career continued to dip.
Therefore, if Fayose's approach to governance, an approach that is at once rambunctious and sometimes shambolic, can be described as a form of defence mechanism against a real or perceived complex, his friends, associates and family members would need to calm him down and counsel that he should not sacrifice his natural grassroots connectivity potentials on the altar of rascality and a behavioral pattern that appears to be running on steroids.