Governor Rotimi Amaechi of Rivers State has promised that his administration will fix a federal road, the Umuechem/Chokocho Road, in Etche Local Government Area of the state. The road is in a very deplorable state.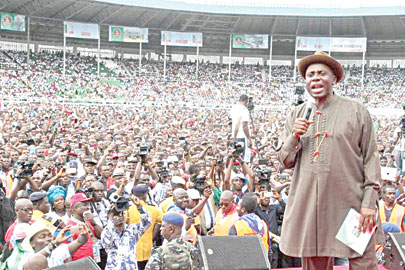 Amaechi, at the 2014 adult harvest thanksgiving service of the Church of Nigeria Anglican Communion, Province of the Niger Delta in Okomoko, Etche, said although the road is a federal road, the Umuechem/Chokocho Road was in a very deplorable state and must be fixed to ameliorate the sufferings of the people.
"We will fix Umuechem/Chokocho Road. The road is a federal road including the Igbo Road. I will try and fix the bad spots before elections," Amaechi said.
He told the people that his administration has provided infrastructures such as road networks, model schools and health facilities, including the ongoing construction of a general hospital at Okehi.
Governor Amaechi also enjoined the people to support him in the 2015 general elections by voting for All Progressives Congress, APC.
"We have done more roads in Etche. The roads that are bad are federal roads. We have built health centres in Etche, we have also built model schools in the area. We have agreed to build three more hospitals according to senatorial districts but because of distance I have asked them to build one at Okehi.
"You owe me your vote because I have fought for you."