By Bashir Adefaka
APGA chieftain and immediate past Anambra State Commissioner for Special Duties, Barrister Vincent Ezenwajiaku was on a protest visit to the corporate head office of Vanguard Newspapers, Friday, during which he expressed anger over he described as immorality in politics going on under the Chief Victor Umeh-led leadership of the party. Also a pharmacist, Barrister Ezenwajiaku, who is also President, Association of Morality in Politics and Good Governance, spoke to Sunday Vanguard on how decided to sacrifice his Federal Constituency 2015 project to save the party from itself. Excerpts:
First and foremost, what brought you here?
That is the reason I came to air my view and disappointment over what is happening in the party in Anambra State and national headquarters.
What is the situation?
The situation is that the sitting national chairman of APGA, Chief Victor Umeh, failed to resign from his position and he is running for the Anambra Central senatorial seat.
And what about that?
I have nothing against him but the fact is that I cannot see any legality or reason he will sit as national chairman and conduct primary elections in which he is also a contestant.
You have mentioned three issues. One, he is the national chairman of the party; two, he is an aspirant and he is also conducting primaries. But is that part of the traditions?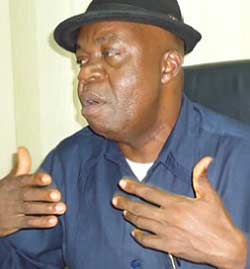 It is not. It is totally undemocratic. It is immoral. I am also speaking to you here as the National President of the Association for Morality in Politics and Governance, which is an NGO. I am sitting here from that angle of morality in politics. We know that power is sweet but it should not be abused. Why can't Victor Umeh resign from his position and get on with his senatorial ambition? He has been in office for years as the national chairman of APGA. I have no issues with that because the courts have resolved it.
But, for God's sake, why can't you step aside and then face the contest? You cannot be a judge in your own case. If he sits as national chairman of APGA, he is the one organising primaries, he is the one conducting the election, he is the one supervising it and he is the one that will ultimately decide the winner. So, will there be a level playing field?
But how did APGA that is a party of pride to the Igbo get to this level?
Okay this is complicated by the fact that there is no unity in APGA. The APGA is divided and factionalised. The party is not okay, I must be frank with you.
Is this supposed to be the fall out of the former governor, Dr. Peter Obi's defection to PDP?
The former governor's defection to PDP has further divided the party and his loyalits who he left behind are treated as political orphans in APGA while Victor Umeh's supporters are seen as the real owners of APGA.
What has the state chapter of APGA done about this?
The position of the party in the state is that Umeh is running. Nobody has said anything about it but they are not happy. There is the saying, vox populli vox dei, voice of the people is the voice of God. I am speaking and what I am saying here today is the voice of the majority of members of the APGA in Anambra State. But nobody dares speak. Everybody cannot be a 'yes man'. I am not that kind of a 'yes person'. If good men fail to speak when things are going wrong, the society will suffer. This is an ugly precedent. It has never happened in the politics of this country and I have never seen where a sitting national chairman of a party is contesting election and yet, he is conducting the same election in which he is contesting.
Is it not ironical that APGA that few days back boasted to be aiming at taking over the entire Southeast is starting out this way?
Frankly speaking it does not augur well for our party but, as a loyal member of APGA, I pray we will succeed.   I do not think this is a good omen because it does not portray well the image of the party. This ridicules the party.   And it means that there is no internal democracy in APGA. What this has caused is that, a lot of people have lost faith in APGA.
I am supposed to run for Aguata Federal Constituency. I left my office in Lagos and obtained a bank draft of N2.5 million for the expression of intention form on October 28. I got to my constituency on the 30th to pick the form. On that day, Victor Umeh went to buy a form still as a sitting national chairman.
Victor's tenure as national chairman ends in February 2015. What is wrong with him serving out his tenure in 2015, having some rest and then think about the next level to move? He is a young man. Victor is about 52 years. Four years away he will be 56. Why can't he run for the Senate after 2015 so that we can avoid all these problems in the party?! There are many people who want to run for that position but he has taken up the position still sitting as national chairman of the party.
What is the update about your own aspiration?
I have decided to sacrifice my aspiration for the Federal Constituency to protest against this abnormality and undemocratic behaviour in APGA. It is a big sacrifice.
What about your money?
I did not purchase the form. I canceled the idea of purchasing and cancelled the bank draft of N2.5 million. In essence, I withdrew from the contest in order to show my anger and disappointment that, at least, if anybody cannot speak, I can speak and all this is for the sake of the party.
But Chief Umeh's is not the first. I mean President and governors do not resign yet they conduct elections that they participate in…?
Yes. The whole thing is heating up the polity all over Nigeria. You see a governor sitting in office standing in election that he conducts. It is ugly, it is not good and it must change. I am charged also, apart from being chieftain of the APGA, as National President of the Association of Morality in Politics and Good Governance to say that Nigerians in politics must stop this attitude.   You cannot have two positions at the same time. It is not morally right and it is not good for the polity.
I have complained bitterly in writing to Governor Willie Obiano.
Has he replied?
He has not replied and I am not expecting him to reply but if he wishes to reply, that is okay. We are the ones that put him in office as governor. At least I was the chairman of the constituency campaign office and I delivered my Aguata Local Government, to him. Obiano is doing very well because he started well.