By Ediri Ejoh
The Nigerian Association of Petroleum Explorationists, NAPE, has called for stricter sanctions on oil vandals, if the target in production of crude in the country has to be met.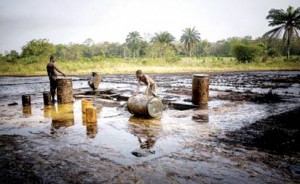 President of NAPE, Mrs. Adedoja Ojelabi, said the challenges in the industry would be worse if sanctions are not put in place to discourage theft and pipeline vandalism, as a larger percentage of the economy revenue is tied to oil production.
In a chat with journalists where she announced NAPE's forthcoming International Conference and Exhibition, she said that though divestments would not discourage vandalism, re-strategising to diversify the economy from oil dependence, would boost investors' confidence.
According to her, "in developed societies industrialisation is the key leader that drives the economy, and how can we achieved this? The government should look outside crude and invest in other sectors of the country like power that could encourage investors and industries."
She however, dismissed the notion that diversifying would affect oil exploration. "Let us not picture crude as only a product of fuel, diesel or gas usage. Oil is everything and a byproduct of most of the commodities and materials that are being used. As a country with more technologies, there are alternative uses sought out by the Nigerian people and other developed country.
Also speaking, the President-elect of NAPE, Mr. Chikwendu Edoziem, said that the delay in the passage of the Petroleum Industry Bill, PIB, is a necessity that has to be taken to ensure a sustainable industry.
According to him, "the challenges of the PIB are the slow pace in trying to put things together. If you look over at 2002, we had some issues regarding exploration and incentives were put in place to improve discovery of hydrocarbon. And now, the government saw it necessary to create the PIB to redeem exploration activities in the country.
However, he noted that the international oil companies, IOCs, should not be blamed for the delay in its passage of the bill, as all parties are striving to see that the PIB helped the industry to grow.
"The IOCs and the independent bodies in the industry have been trying hard to come up with a better and profitable industry bill that will amount to a boom. As such, a lot of delegations and considerations have to be dialogued concisely," he added.