By Uduma Kalu & Nwabueze Okonkwo
OhanAeze Ndigbo has called on President Goodluck Jonathan to immediately repair the federal roads in the South East as all the roads have become death traps.
Some of the affected roads include Onitsha-Enugu express road, Aba-Port Harcourt, Aba-Ikot Ekpene Road and Azumini roads.
It said though President Goodluck Jonathan's government had been fair to the people, there was still a glass ceiling placed on them from holding some key positions in Nigeria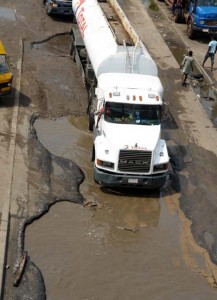 The group spoke at its first Lagos chapter open lecture to mark the annual Igbo Day, and chided political office holders from the region for being self-centred  in the face of marginalisation of the region.
Former Anambra State governor, Dr. Chukwuemeka Ezeife, in his paper entitled '"The Impact of Transformation agenda on Ndigbo of positive impact on the Igbo' noted that, "the South East seemed to be permanently excluded in some key ministerial appointments, such as Ministries of Interior, Works, Defence, Head of the Civil Service of the Federation.
Represented by scholar and author, BC Okoro, Dr. Ezeife said "importantly, there appears to be pronounced marginalisation of the South East in appointments in ministries, departments and agencies. There are still some of these organisations funded fully by government where a person of Igbo extraction has deliberately not been allowed to head since inception."
In such instances, Okoro noted that the code of conduct and federal character, as enshrined in the 1999 constitution, had been abandoned with impunity, encouraging ethnicisation of such organisations by their chief executives.
Similarly, Ndigbo Unity Forum, NUF has tasked President Goodluck Jonathan to commence rehabilitation of dilapidated roads and other infrastructures in the South East and South South geo-political zones of the country, if he must garner support from the zones during the 2015 presidential election.
NUF mentioned some of the dilapidated federal roads as the Umuahia/Ikot Ekpene, Aba/Ikot   Ekpene road which connected South-East and South- South zones, particularly the Ekebedi-Umuegbule-Ogbuebule-Awomukwu section of the road, Ufuma/Inyi-Achi/Oji- River, Akwa-Ihedi/Unubi, Otuocha/Adada, Amawbia/Ekwulobia with a spur to Uga, Umunze/ Isuochi and Inikiri/Umuezeoka/Effium/Igumale roads.
They also mentioned Nnewi/Amichi/Ekwulumiri/ Unubi/Uga/Akokwa/Arondizuogu/Okigwe road, Onitsha/Awka/Enugu highway, Enugu/Okigwe/Umuahia/Aba/Port-harcourt expressway and the Ishiagu Federal College of Agriculture Road, Ishiagu, Ivo Local Government   Area of   Ebonyi State, as well as the road leading to Owerri Industrial Estate in Imo State
Subscribe for latest Videos