By Gabriel Omoh
THE Governor of the Central Bank of Nigeria, Mr. Godwin Emefiele, has told the international financial community that the Nigerian economy created in 2013, a total of 1.2 million jobs.
He said the remarkable thing about the jobs that were created was that about 91 per cent of these jobs were created by the private sector.
Speaking at a JPmorgan event in Washington on the sideline of the 2014 IMF/World Bank Group Annual Meetings, Emefiele said "For the first half of 2014, the economy has created over 500, 000 jobs and "interestingly, almost 40 per cent of employers cited "business expansion" as the reason for hiring new staff."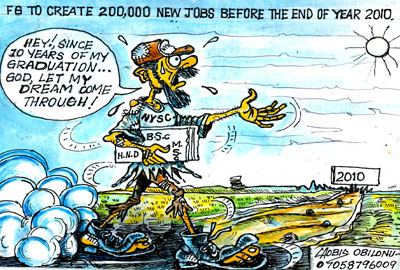 He said "However, given that over one million persons enter the job market annually, there appears to be room for improvement.  He said the economy has remained resilient due to the fact that "the system has endured over ten years of reforms. In the financial system, we have now had about a decade of sustained reforms to make us a better system".
According to him the "Reforms after the global financial crisis of 2007/2008 anchored on four pillars, namely: enhancing the quality of banks, establishing financial system stability, enabling a healthy financial sector evolution, and ensuring that the financial sector contributes to the real economy."
He further told his listeners that the 2004 Bank Consolidation Programme was embarked upon to create more resilient banks, adoption of risk-based regulatory framework while the 2009 reforms after the global crisis was to enhance quality of banks, detoxicated the banking system and improved corporate governance.