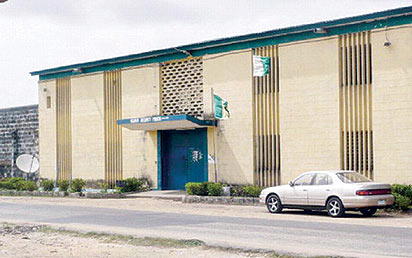 Kirikiri Prison
•Jail break averted
By Emma Nnadozie, Crime Editor and Ifeanyi Okolie
A major jail break was averted yesterday in Lagos when inmates of Kirikiri Medium prison allegedly embarked on a wild protest against the outgoing Deputy Controller of the prison after he assembled all of them to formally introduce his successor.
During the protest that lasted for hours, scores of the inmates were seriously wounded while the office of the Chief Warder was looted and razed down. Unconfirmed report, however, said five inmates of the prison who managed to escape through the fence were killed.
Saturday Vanguard gathered that trouble started early in the morning after the Deputy Controller of the Medium Prison, Kayode Adeyemi, who was to proceed on a course, assembled all the inmates for a formal introduction of a new Deputy Controller Mr. Okocha who would replace him. Events, however, took a dangerous turn when the aggrieved inmates started agitating against the way the out going Deputy Controller managed their affairs.
They reportedly accused him of being high-handed. It was learnt that during the process, the inmates started stoning their top officials, leading to pandemonium in and around the prison. Eyewitnesses said they also held some of the officials hostage before embarking on the destruction of some offices inside the prison including that of the chief warder which was looted and razed down.
A detachment of heavily armed soldiers and other security agents including trained dogs were said to have been drafted to the scene to quell the riot after the inmates reportedly overpowered prison officials and were proceeding towards the main gate. Unconfirmed reports said some of the inmates were able to escape through the fence by Dillion street, Kirikiri town. They were accosted by armed soldiers who were advancing towards the prison. Some of them were reportedly shot but their condition could not be ascertained as at press time.