By Tony Ubani
AS Nigerians wait anxiously to know the the fate of the country from World soccer-governing body, FIFA,  former international Victor Ikpeba has made a passionate appeal to Sports Minister and chairman of the National Sports Commission, Dr  Tammy Danagogo to find an end to the crisis rocking Nigerian football.
''We can't continue to ridicule Nigeria. It is the responsibility of the Minister to find a lasting peace for Nigerian football. He is the father of sports in Nigeria. He should find a way out of this quagmire'', Ikpeba  said.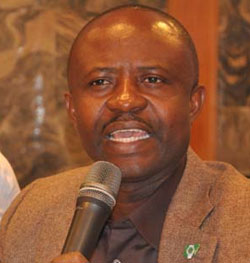 The former African Footballer however had harsh words for Ambassador Chris Giwa and former coach of the Eagles, Stephen Keshi.
''Giwa is fighting in vain. FIFA and CAF have all recognised the election that brought in the Pinnick-led Board of NFF. It's a pity that those who claim to have passion for the game that Nigerians love are the ones who want the country to be banned. I know that these things are happening because the Pinnick-led Board sacked Keshi. Keshi is not the first Nigerian coach to be sacked. Many others have been sacked before him and heaven did not fall. Even coaches who did well at the World Cup have been sacked. Coaching is all about hiring and firing'', Ikpeba said.
Ikpeba noted that Nigerians  were overjoyed on Saturday when the Super Falcons thrashed Cameroun's Indomitable Lioness 2-0 to win the African Women Championship in Namibia. ''There were sporadic shouts of joy each time the Nigerian Women scored. We love this game and and we appeal to the Sports  Minister to find a solution to this mess''.
Ikpeba also appealed to Nigerians to support the Pinnick-led NFF as he noted that the body would bring many good tidings to Nigerian football. ''Nigerians should support him. He did it in Delta and will do it at the national level.