By Demola Akinyemi
ILORIN—Governor of Kano State and presidential aspirant on the platform of the All Progressives Congress, APC, Alhaji Rabiu Musa Kwankwaso has said that President Goodluck Jonathan would be easy to defeat during the 2015 elections contrary to the expectations of the supporters of the ruling Peoples Democratic Party, PDP.
Kwankwaso also said that he was determined to go to the end in his quest to emerge as the candidate of the opposition APC, dismissing speculations that he would step down for any of the aspirants.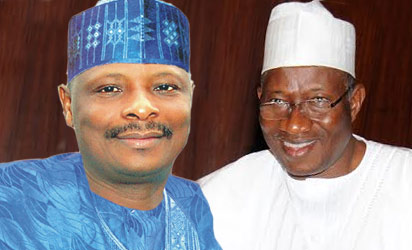 The governor, who is banking on his age among other older aspirants like General Muhammadu Buhari (retd), former Vice President, Alhaji Atiku Abubakar and Alhaji Nda Isaiah noted that he was the most qualified for the job.
''I have contested elections 12 times, I won 11 times, and lost only one from the ward, local government, state and national assembly level," he said.
Kwankwaso spoke with journalists in Ilorin Tuesday night ahead of yesterday's meeting of the APC leaders and other stakeholders in the state.
He explained that with the electorates' level of awareness, Nigeria's growing democracy, any incumbent governor or president can be removed by the people.
According to him, he was removed as the governor of Kano State and later re elected, adding that in Ekiti State, the electorates voted against an incumbent governor, Dr Kayode Fayemi of the APC, while the same APC won election in Osun State.
He said that the trend would continue in the 2015 general elections.
His words, ''Any president or governor can be unseated in Nigeria now; forget about any political jamboree or propaganda that anybody or political party can be engaged in now. For me, President Jonathan will be easy to remove in 2015 election because Nigerians are angry with him. Many people will be surprised.
''You people are just sitting down here, if you go to the north eastern part of Nigeria, your people there are living on the hills because of the crisis of displacements while many others have fled to neighbouring African countries for survival; where we are sending relief materials to them. Nigerians are no fools and people cannot be deceived. At the right time, they will speak with their votes.
"If any of you journalists are the parents of the Chibok girls only God knows how many write ups you would have done by now. Where are the girls,we really need a change."
Subscribe for latest Videos