BY SIMON EBEGBULEM, BENIN CITY
Cultism is one of the major problems confronting Edo State and, of course, any Commissioner of Police posted to the state. The rate  at which youths in the state, particularly in Benin-City, "blend" into different cult groups is so worrisome to law enforcement agents who try to stop them, some times during initiations, at the late hours of the night.
But the situation is more worrisome in Benin-City, after the police command in the state discovered that  teenagers  are being initiated into two cult groups. Eiye Confrarnity and Hallah of the Night.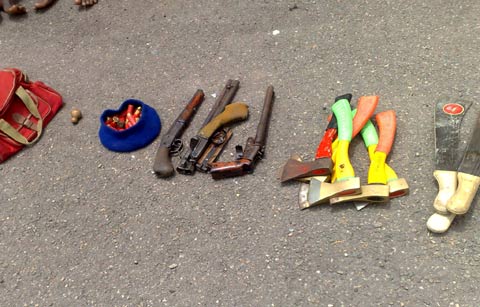 Last week in Benin-City, Edo State Police Commissioner, Funso Adebanjo, paraded 15 youths, between ages 13 and 15, suspected of being cultists, with different arms and ammunition. The suspects were said to have been arrested at Unewa village near Uromi and Ologbo town respectively, and confessed to being members of  Eiye Confraternity and Hallah of the Night. Some of the items recovered from them include two battle axes, one Eiye Confraternity flag and a calabash.
The Edo  police boss, Adebanjo, explained that eight suspected members of the Hallah of the Night were arrested in Uromi while seven members of the Eiye Confraternity were arrested at Ologbo.
"They confessed that they were initiated by other members of the group. We  are surprised that little boys are going into cultism and they did not deny,'' Adebanjo said. ''Some  of them said they just felt that belonging to a cult group will give them the confidence that they are now big boys. Majority of them are secondary school students, but some are out of school, especially those who are in Eiye, those ones who are members of the Hallah of the Night are secondary school students. We discovered that this issue of peer group where children mix with friends is very dangerous because that is how these people are initiated into cultism. It is unfortunate that it happens, parents have a role to play to protect their children
. ''The law will not spare them if they commit any offence, no matter their age. What they are doing is unlawful and that is how they enter into crimes like armed robbery and kidnapping. We have discovered that these cultists are fearless and they are the ones who can do anything, they can be ruthless. These are people who will storm people's houses and slaughter their targets like the ISIS group in Iraq or even Boko Haram. We watch the ones they do in Iraq and think it is impossible, but it happens here in Nigeria.
''These cultists behead themselves when they are fighting. And that is why people like us are bothered because it has gone down to secondary and primary schools and that is worrisome and unfortunate. Their sponsors  deceive them that they will be protected and these teenagers will join. It is very unfortunate; that is why parents must watch their children seriously, particularly the friends they keep. ''We will take them to juvenile court while those above 18 will be taken to a regular court". The police boss  further warned that the police in Edo would not tolerate any form of cultism, describing it as barbaric "and anyone caught will be dealt with accordingly.''
One of the suspects, who identified himself as John Osagie, 13, spoke about  how he joined the Hallah of the Night. "What happened was that some of my friends became so strong in school that people feared them. So they told me if I wanted to be strong, I should come and be their member. That is how they took me to the bush and I became a member.''