By YINKA KOLAWOLE, LAWANI MIKAIRU, FRANKLIN ALLI, MICHAEL EBOH, PRINCEWILL EKWUJURU & JONAH NWOKPOKU
The incidence of the Ebola virus disease (EVD) brought into Nigeria on July 25 by the late Liberian-American, Patrick Sawyer, has elicited different reactions from operators on its possible impact on business activities in the country.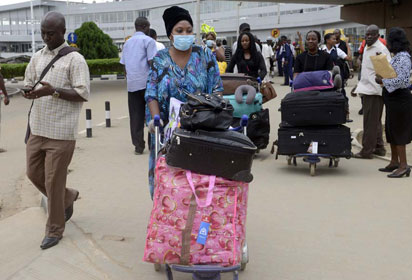 Investigations carried out by Financial Vanguard revealed that while some sectors have reported downturns in business as a result of the EVD incidence, others have recorded significant upsurge in patronage while there are some cases of business as usual.
Online shopping up significantly
Findings of the investigations show that, as a result of the EVD scourge, frequent shoppers have turned to online shopping for their groceries, clothing and sanitary items.
Online retailer, Jumia.com said it has recorded a tremendous increase in online shopping patronage since the incidence of EVD in Nigeria. According to Jumia, within weeks of the incidence, it has noticed a major increase in online demand for products like sanitary and protective products such as hand wash, hand sanitisers, bleaches, contraceptives, etc.
"Everyone is out to protect him or herself and prevent the spread around their environment. Jumia has recorded about 50 per cent increase in number of new customers, not only for sanitary products which have sold more than 5,000 in the past few weeks. More new customers have signed up and started buying all products from Jumia with triple increase in traffic from major cities in Nigeria," it said.
Speaking on the increase, Managing Director of Jumia Nigeria, Jeremy Doutte, said: "We have seen a massive increase in number of new customers on our website and it is encouraging to see people are taking the awareness of EVD in Nigeria seriously with less exposure to public places.
Jumia has also seen an increase in company's growth from an average of 15 per cent to over 40 per cent monthly growth average. The markets have less people and for us, we are out to satisfy our customers because it reduces the stress of going through traffic in major cities, also having to worry about direct contact to reduce the spread of the EVD."
Also, another online retailer, Kaymu, said since the report of EVD in Lagos, it has recorded a sharp rise in purchase of sanitary products by Lagosians.
The retailer said this can be attributed to the prompt actions taken by the authorities to educate the general public about the severity of the virus and the continuous coverage of the situation by local and foreign media.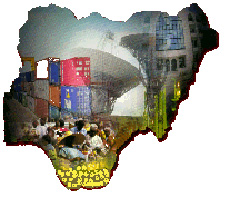 Kaymu said online search for hand sanitisers on its platform has increased by 130 per cent in the past week and sales of hand washes and lotions have also increased significantly.
Managing Director of Kaymu Nigeria, Evangeline Wiles, said: "It is very encouraging to see that the general public, especially Lagosians, are taking the news of this outbreak seriously. Lagosians and Nigerians in general are advised to take the precautionary measures communicated by health officials, such as frequently washing hands, to ensure the virus is contained and possibly eradicated."
Another online retailer, Konga, said in addition to the steady increase in patronage, it has also recorded significant increase in sales of sanitary products.
Speaking to Financial Vanguard, Konga's Head of Marketing, Gabriel Gab-Umoden, said: "The Ebola-driven products like hand sanitisers have seen an increase in patronage in our online shops. Also, most sellers in the marketplace are also importing these sanitary products and looking to sell them online because of the increase in demand."
Online foreign hotel bookings suffer cancellation
A check on other online related businesses like hotel bookings also revealed that while travels within the country have not been affected; online hotel bookers have seen cancellations in foreign bookings.
Speaking on the impact, Founder and Chief Executive Officer of Hotels.ng, Mark Essien, said the EVD incidence has not had any significant impact on their turnover, especially in relation to Nigerian travellers, but noted that they have seen some cancellation of foreign hotel bookings as a result of the Ebola scourge.
"From our earnings, it has not made any significant difference but we have begun to see several cancellations. But these cancellations are mainly from our foreign bookings. They send emails requesting the cancellation of their bookings because of Ebola. If not for Ebola, I am sure we would have recorded more bookings but it still has not affected our turnover in terms of total volume because we are focused on Nigerian travellers. This is completely unlike what obtains in countries like Kenya where the tourists do not want to visit the country again because of the situation there. But in Nigeria, it is the foreign related businesses that would be affected. It has definitely not helped us because we would have recorded more bookings if not for the Ebola," he stated.
Also speaking, another hotel booker, Jovago.com, said: "With regards to the impact of Ebola on online businesses, it depends on the industry the business operates in. Even though there has been a lot of expected panic resulting from the spread of Ebola in Nigeria, some businesses have actually seen a boom in their transactions. An example is e-commerce, because people have become more wary of going to busy shopping malls or markets – in a bid to limit human contacts — more people have now resorted to making purchases of groceries, cosmetics, clothes and such online."
Speaking to Financial Vanguard, Jovago's Head, Marketing and PR, Chinelo Ngene, said: "The travel industry is another sector that has remained largely unaffected by the scourge.
The truth is that people have to travel despite the situation, and so long as people protect themselves by washing hands regularly and restricting bodily contact, there should be nothing to fear.
At Jovago.com, because we make it easy for people to book hotels online, it has been business as usual as people have continued to book hotels within Nigeria. There has been a lag with foreigners coming into Nigeria but again, our primary market is actually Nigerians," she stated.
Lull in cross-border transactions
Nigeria, which this year surpassed South Africa as thecontinent's largest economy, has been credited for effectively containing the impact of the Ebola epidemic, which at this point appears confined to two cities, Lagos and Port Harcourt.
However, there seems to be a lull in inter-border trade with Nigeria as a result of EVD. A Nigerian Customs official told a foreign news portal that revenue from import duties of used vehicles has declined drastically. Part of the reason is that increased surveillance for the disease at land borders — including quarantines for those with high fevers — has slowed trade and potential customers to a trickle, the official, who declined to be identified because he wasn't authorised to speak to the media, said.
This is not limited to cars. "Many of my customers from neighbouring countries have stopped coming. When I try to reach out to them on the phone, they complain of stringent Ebola screening measures," said Yusuf Adamu, an electronics dealer in Nigeria.
Aviation sector feels the pinch
The EVD incidence in Nigeria has led to a drop in patronage in the aviation sector in the country. Several airlines including Arik Air, Asky, British Airways and Emirates have since suspended flight operations to and from the Ebola affected countries. Arik Air, for instance, suspended operations to countries like Sierra-Leone and Liberia, resulting in huge financial loss to the airline.
Captain Ado Sanusi, Deputy Managing Director and Head of Flight Operations of Arik Air, recently said the cancellation of flight operations to some West African countries by the airline has had negative economic impact on the airline and the affected countries.
Sanusi, however, said he cannot put figures to Arik's loss as a result of the cancellation of flights. "We are losing revenue because of daily flights. We have about four flights to Liberia and about three flights to Freetown (Sierra Leone) and we were connecting Ghana with Freetown. We were also connecting Ghana with Monrovia and Banjul, so there are a lot of economic activities that are going on within West Africa, which now is not being done. Of course, there will be economic loss there as movement will be restricted," he said.
Sanusi also said the cancellation of flights to the affected countries has further shrunk the economies of the affected countries. "You are talking about the airport, the catering, handling companies, the airlines, oil marketers that are supplying Jet A1 to them. It will affect the entire economy of that sub-sector. We will see a reduction in the countries that are affected," he added.
An official of another airline who pleaded anonymity said patronage of airports in the country, particularly in states where the EVD has been confirmed, has reduced by about 50 per cent and citizens were becoming apprehensive whenever they visit any airport. The official further said that foreigners were skeptical about visiting Nigeria, a development that had "severely dragged down the revenues of many carriers."
According to a recent report, many airline bookings in the hospitality and tourism sectors in Lagos State, Nigeria's commercial capital, had been cancelled by in-bound travellers due to the Ebola scare. "This is not surprising since India and Greece have openly advised their citizens to avoid non-essential travels to Nigeria and other Ebola-affected countries. It is estimated that restaurant visits in Lagos have already declined by 50 per cent," the report stated. It further said air transport was 0.09 per cent of Nigeria's Gross Domestic Product in the first quarter and the second most used means of transport after road. "We expect revenues in the aviation sector to plunge downwards, which will affect both the airlines and the support industries, including handling companies, oil marketers, catering service provider, duty-free shops, etc," it added.
OPS urges caution
The Organised Private Sector (OPS), comprising MAN, NACCIMA, NECA, NASME and NASSI, said EVD is impacting the sector negatively, but urges caution in reporting the outbreak.
Alhaji Badaru Abubakar, National President, Nigerian Association of Chambers of Commerce, Industry, Mines and Agriculture (NACCIMA), said that the Ebola incidence has affected businesses in Nigeria and is depriving the country of Foreign Direct Investment which has significantly slowed down the economy at large.
"The Ebola virus has really deprived us of so much; most of the people coming into Nigeria to do one business or the other have stopped coming because of the fear of the virus. Initially, airlines were being affected, tourism and hospitality were on the decline, people ran their daily affairs with fear. The Federal Government was on top of the security challenge which for a while now has been affecting businesses and the economy at large, and now, they are also fighting to curb this Ebola virus. The truth is that there is urgent need to curb this virus and it is a collective effort, both from the government and the citizens because we cannot afford to lose lives and businesses.
"We commend the Federal Government for taking practical steps to contain the spread of the virus in the country. We believe that the virus could be effectively contained if all measures are frontally implemented. However, we have observed that with the outbreak of the virus, the tempo of business has been slowed down in the country and with significant impact on the economy, especially in the tourism and hospitality sector," he said.
On its part, the Lagos Chamber of Commerce and Industry (LCCI), said there should be discretion in information management, advising that care should be taken not to escalate the Ebola crisis beyond the reality of its occurrence.
Alhaji Remi Bello, LCCI President, said: "The Ebola hype has created a disproportionate panic, anxiety and scare, projecting the country as endemic Ebola zone. Ebola is alien to our environment and therefore a momentary phenomenon. There is currently the risk of international isolation, stigmatisation and unwarranted discriminatory practices against the citizens traveling outside our shores. This has grave consequences for the economy and the citizens. We commend the progress made so far in the containment strategies. We remain optimistic that the disease will be fully controlled sooner than later."
Oil and gas shipping feeling the impact
Operators in the oil and gas sector have lamented the negative effect of the Ebola Virus Disease on their operations in Nigeria and other affected countries.
Specifically, Bourbon SA, which runs supply and crew ships for the offshore energy industry, swung to a first-half loss, saying its operations in Nigeria have been affected by the Ebola outbreak.
According to the company, the loss was 4.8 million euros ($6.3 million), compared with a 14.4 million euro profit a year earlier.
Christian Lefevre, Chief Executive Officer, Bourbon, said the company's sales, which rose 8.9 per cent, are expected to be at the lower end of a full-year growth forecast of between eight per cent and 10 per cent.
"The mobility of our vessels coming from Nigeria has been restricted by some countries. Vessels coming from Nigeria cannot go directly to Cameroon or Ivory Coast. While Bourbon has stopped sending vessels to Nigeria for maintenance, there have not been any significant disruptions to the company's operations," he said.
On its part, Maersk Line said it will continue to call at ports in countries in West Africa affected by the deadly Ebola virus, although it said it has suspended shore leave as well as crew change in Liberia, Sierra Leone, Guinea and Nigeria.
Spokesperson for Maersk said: "We have been following the situation for some time and sent out our first advisory to vessels calling at West African ports. We have subsequently sent out several updates – to crews and land-based personnel – outlining additional health measures as per the WHO recommendations. We have also suspended shore leave as well as crew change in Liberia, Sierra Leone and Guinea as well as in Nigeria."
Business as usual at social joints
Financial Vanguard investigations further revealed that it is business as usual in several drinking joints around Lagos, as the joints were filled with people catching fun not minding the EVD outbreak.
Mr. Damian Orji, Manager of De-Rock Restaurant, located along the Lagos-Badagry Expressway, said consumers are trooping in as usual, but what the restaurant has done is to also provide sanitisers in line with health officials' advice. He suggested that local officials should monitor drinking joints to ensure that restaurants within their locality provide sanitisers for customers as a measure to forestall the outbreak of EVD.
In the same vein, Mr. Johnson Ogwu of Rest Room Restaurant, along Iyana Iba–Isheri Road, corroborated the statement of the first respondent, saying that the outbreak of the EVD has not slowed down business for bar owners. He also supported government's position that sanitisers be made available at strategic positions in restaurants to forestall the spread of the virus.
Subscribe for latest Videos