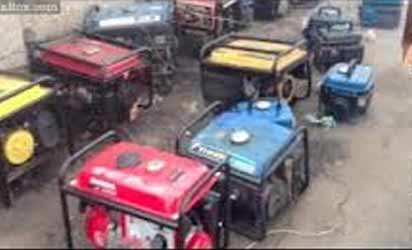 Stock
By Vera Samuel Anyagafu
Alarmed by the increasing death of Nigerians through inhalation of fumes from electricity generating sets popularly known as generators, the President, Good Governance Initiative, GGI, Mr. Festus Mbisiogu, has called on the Federal Government to urgently take steps to halt the trend. He said at the last count no fewer than 10,000 Nigerians have over the years died from poisonous 'generator' fumes, especially in the years between 2008 and 2014.
Attributing  this unfortunate situation to the massive use of generators in the country, he  urged government to intensify efforts towards energy improvement.
This, he said, will ensure that lives and property are secured, adding that consistent usage of power generating machines in the country is like a time bomb waiting to explode.
Recounting the number of Nigerians who lost their lives as a result of fumes and or explosions from power generating machines within the past two decades, Mbisiogu suggested that the Nigerian government should make it a point of priority to design a progressive model to achieve uninterrupted power generation in the country.
Although, the GGI President commended the Jonathan administration for initiating the process for achieving sustainable electricity in the country, he also stated that responsible Nigerian authorities should be committed to the concerted efforts made by President Jonathan towards sustainable power generation, adding that the National Assembly, stakeholders, political parties and well-meaning Nigerians should arise and fight the terror of power failure and avoid the docile approach and weakness presented.
"President Goodluck Jonathan is the only President who succeeded in privatizing the power sector and his effort towards ensuring consistent electricity in the country should not be thwarted, either by vandals and or corrupt minded Nigerians. Fact is that uninterrupted power supply would reduce poverty, unemployment, massive foreign Direct Investments (FDIs), and improve standard of living an growth of indigenous human capital," Mbisiogu argued.
According to him: "The poor state of power and electricity in the country, and the suffering of common Nigerians are unimaginable. On a daily basis, most homes, businesses and institutions spend a huge part of their income on generator purchase, service and maintenance. Manufacturing industries end products cost prices have increased and consumers are struggling to stay above the water.
"The story is also the same in the health sector, where many lives were lost due to the epileptic nature of electricity and power generation in the country. Everyday, we hear stories on how the country would progress if there was constant power supply and I strongly believe it's the duty of Nigerians to make it a reality."
Similarly, he said that 2000 factories in the country were forced to shut down between the year 2000 and 2014 as a result of unsteady power supply and high cost of running generators, adding that research statistics recently obtained by GGI showed that over 10,000 Nigerians have lost their lives as a result of fumes and explosions from generators.