By Ben Efe
As the threat by FIFA to ban  Nigeria by Monday September 1, hit hard on Nigerian sports officials, the Sports Minister Tammy Danagogo has denied any involvement in the Nigeria Football Federation flutter, which has thrown up two factions.
Mr. Chris Giwa emerged as president of the NFF last Thursday, but another group largely consisting of stakeholders sympathetic to former president Aminu Maigari distanced themselves from that election. The world soccer governing body on Friday, threw the spanner in the works for Giwa. Dr. Danagogo, had endorsed his election.
However, a statement released yesterday by the National Sports Commission absolved the Minister of any blame in the unfolding fiasco.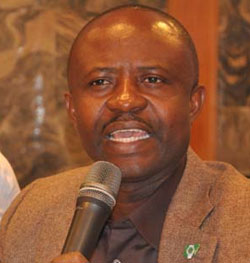 " The NSC  wants to state that it is not unaware of the crisis bedeviling football administration in Nigeria and is assuring all football stakeholders that the Honourable Minister/Chairman, National Sports Commission, Dr. Tammy Danagogo is doing everything to ensure that peace returns to the NFF.
According the to the statement, The NSC is still studying the situation and "at the appropriate time we will say something about it in order for our football to move forward."
"Already  the Minister has started calling the parties involved in the dispute to know their grievances and find a way out of the crisis because it is not healthy for the development of our football."
The NSC also denied that it orchestrated the arrest of Maigari.  "The National Sports Commission wishes to put the record straight on the reason for the arrest of former president of the Nigeria Football Federation, NFF, Alhaji Aminu Maigari last Tuesday in Abuja by men of the Directorate of State Security Services, DSS. "Maigari,, was picked up by men of the DSS in Abuja shortly before the Congress of the NFF and some Nigerians  insinuated that  he was arrested to prevent him from presiding over the Congress.
"It is however, on record that the former Acting President of the NFF,  Mike Umeh had, immediately after the fire   outbreak which razed part of the NFF secretariat in Abuja, said he suspected sabotage by "some people who are desperate to perpetuate themselves in power and called on the police to investigate the incident."
The arrest of Maigari and some other officials of the NFF by the DSS is part of its routine to investigate the fire incident and interrogate some suspects based on the report of officials of the NFF and therefore had nothing to do with the NSC as is being erroneously insinuated."
Subscribe for latest Videos