By Ndahi Marama
MAIDUGURI — Gunmen suspected to be Boko Haram sect members, yesterday, attacked the border town of Gwoza at dawn; setting ablaze the Divisional Police Station, council secretariat complex and other buildings.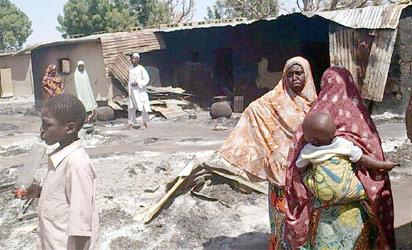 Scores of people were killed in the process. Gwoza is a border council headquarters, and 135 kilometres southeast of Maiduguri, the state capital.
The gunmen, according to a resident, Yahaya Mbursa, also burnt down two churches, before snatching unspecified number of vehicles at the motor-park near the burnt police station, before fleeing into the hill tops of Mandara Mountains and Sambisa Forest, yesterday morning.
Another eye witness, Mbursa Ibrahim, a bus driver at the motor-park, also said: "The Boko Haram dawn attacks were very shocking and terrifying, as the gunmen burst into this town through the mountain tops and western forest of Sambisa, 18 kilometres from this town. Some of the residents had to flee into nearby bushes and hills, near this market square.
"I cannot tell you the exact number of people killed, yesterday, while fleeing, but about a dozen were shot dead. We had to run for our dear lives this morning (Wednesday), when the gunmen attacked this motor-park, and warned us not to panic, but should surrender all the vehicles; including the ones being loaded with passengers. Some of us fled, while others took cover behind the buildings shivering, believing that the insurgents were going to shoot us."
Confirming the incident, yesterday, in Maiduguri, the former Council Vice‑Chairman, Mr. Francis Mbala, said gunmen attacked Gwoza town, burning a police station, churches and other public buildings, before snatching unspecified number of vehicles at the motor-park.
He said: "I am yet to get the exact number of people killed in yesterday's dawn attacks, but the report being sent to me on my phone indicated that there were casualties in the multiple attacks.
"They are yet to furnish me with the number of our people killed by suspected gunmen that burst into the town through the hill-tops, the southern entry point on Gwoza‑Madagali road; and Damboa road that leads to Sambisa Forest."
According to a military source, who preferred anonymity, "the insurgents are on rampage, as they have no other place to hide now, other than to attack vulnerable towns and villages near the mountain tops and Sambisa Forest."