By GBENGA ARIYIBI
ADO-EKITI—Governor Kayode Fayemi of Ekiti State, yesterday said the creation of additional 19 Local Council Development Areas, LCDA, had no political under tone, insisting the agitation for additional councils by the people of the state pre- dated the creation of the state.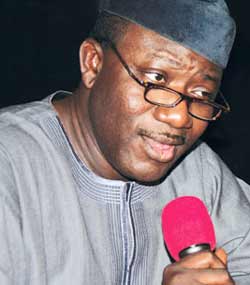 Fayemi equally said workers had no say in the process that led to the creation of the new councils, urging any worker with political ambition to resign and face politics.
The governor apparently responding to the leadership of Nigeria Union of Local Government Employees, NULGE, which had directed members to shun posting by the state government to the new councils, said his administration had fulfilled all the needful based on the constitution of the Federal Republic of Nigeria.
Fayemi, who featured in the Yoruba edition of the monthly progamme 'Gomino S'alaye ' monitored by Vanguard in Ado-Ekiti, said his administration had only heeded the agitation by the wide spectrum of the people of the state asking for the creation of more councils in the state.
According to him, "Even when Ekiti was still part of the old Ondo State, many of our communities had pushed for either splitting or creation of additional local governments in their respective constituencies. In what we have done so far we followed due process."
On the directive of NULGE officials to it members, Fayemi, said worker had no business in the process of creating new councils and advised workers interested in politics to leave the civil service for full time politics.
According to him, "all that is required by law had been followed in the process of creating new council and any aggrieved individual or group can also challenge the action through legitimate means."
The governor also described as naive the allegation that his administration was planning to withdraw N10million from the state's coffers to finance the new councils saying Ekiti does not have such huge fund, saying "anybody who wants to be governor must have a lot of patience and shock absorber to absolve lies and unfounded allegations from some members of the public."