BY BEN EFE
The 19th African Athletics Championships end today in Marrakesh, Morocco with Nigeria set to retain the title she won at the last edition 2012 in Porto Novo, Benin Republic.
Ahead of today's final, Nigeria lead the medals table with six gold, four silver and four bronze. South Africa is a close chaser with five gold, four silver and one bronze, Kenya with two gold, one silver and five bronze is in third place.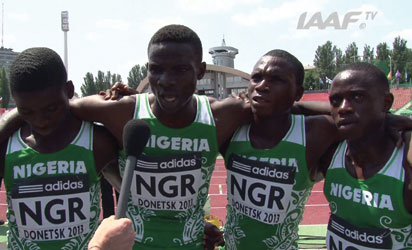 Blessing Okagbare is expected to return to the tracks for the 200m and from all indications, she will take gold at the expense of rival Murielle Ahoure of Cote'd Ivoire. In the men's 200m Divine Oduduru is also on course for a gold. While the Nigerian women 4x400m quartet are set to dominate the event. The men team are also in strong contention for the gold.
According to Athletics Federation of Nigeria technical official, Yusuf Alli, the team was set to repeat their feat in 2012.
'' Before we came here, I told journalists in Glasgow that we will win the championships with about 11 or 12 gold medals.
" I still believe we can do it. By Thursday evening, I am confident that we shall retain the title we won in Benin Republic two years ago'' said Alli.
In Benin Republic Nigeria ended a 12 year wait to return to the top of African athletics. The Nigerian team hauled a total of 10 gold medals, five silver and six bronze. Kenya champions from Nairobi 2010 were close second with nine gold, nine silver and nine bronze medals.