By Daniel Eteghe
Former Abia State governor, Dr. Orji Uzor Kalu, has said that despite several attempts to use the activities of Boko Haram to blackmail President Goodluck Jonathan to give up his presidential ambition to contest 2015 elections, he would run for the office.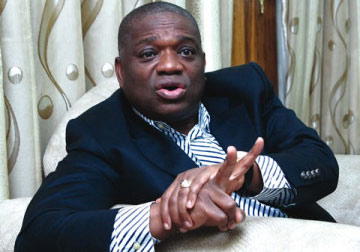 Kalu, who made the declaration in an interview with newsmen at the Murtala Muhammed International Airport, MMIA, Lagos, shortly on arrival from London, noted that he would give his full support to President Jonathan.
He stressed that he believed that other members of Peoples Democratic Party, PDP,  would also do same.
According to him, no other PDP candidate will run for the Presidency in 2015.
"President Goodluck Jonathan is a sole candidate of the Peoples Democratic Party, PDP.  Already, Chief Tony Anenih declared that Jonathan will run and as a conscience of the party, being the Chairman of Board of Trustees of PDP, he has already endorsed President Jonathan and we will all align to support him.   So there is nobody in PDP that will be running for presidency come 2015," Kalu said.
He affirmed that Boko Haram had always been politically motivated to thwart the efforts of the Federal Government, but noted that under the new movement, the sect would be completely wiped out.
To him, the bombing and killing of innocent souls and the  kidnapping of over 200 Chibok school girls were all attempts to blackmail the Federal Government into submission.
"Let me tell you, Boko Haram has always been political and will remain political and it is people that hate President Jonathan.
"Luckily, Boko Haram will be taken care of; I am sure with the new movement, the girls that they are looking for will be seen and people will be able to calm down. In fact, I cry every night for those girls and I pray for them, innocent girls that have not been seen.
"It is a total blackmail and that will not stop Jonathan from running. I cry for those families; there are tragedies all over the world, Nigeria is not an exception. And Chief Anenih has already said that Jonathan is going to run and I align myself with it.
"I will support him fully to run, four years in a life of a country means nothing, so all PDP candidates should step down for him to run."
On the outbreak of Ebola Virus Disease in Nigeria, the former Abia State governor said he was impressed with the manner the government was tackling the issue, stressing that the disease had been in existence since 1976.
He alleged that since the disease was the hype of the West, it should find solutions to it immediately.
"The Federal Government, from what the Minister of Health is doing, you can see that the minister has come positively in attacking it and they have taken the right steps."