By Kehinde Ajose
Social media  has changed the way fans interact with   celebs and also altered the way celebs engage their fans. Donjazzy announced the Mohits break up on twitter; he didn't have to organize a press conference to do that. Social media platforms such as Twitter, Facebook   and Instagram are the new platforms celebs use to build their brands, engage with fans, and communicate their new offerings .In the home front, Nigerian celebs are not left behind .In no particular order here are the top Nigerian entertainers who have a cult following on various social media platforms.
Donjazzy
The Mavin boss Donjazzy is gradually become a must follow on the social media scene. His conversational style, humour and giveaways has built a unique social media appeal for him .He is known to give recharge cards, cash prizes, and other goodies to his numerous fans. The word :"Dorobucci" gained popularity the moment Donjazzy used it   Twitter.
With 863,000 followers on Twitter(as at the time of this report,) and an undeniable following on Instragram.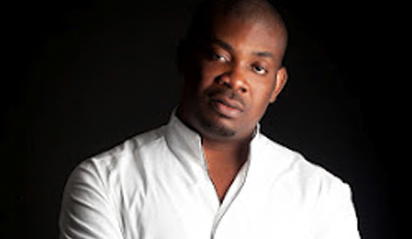 Genevieve
Just like Omotola, the Imo state born belle leads Nollywood on Instargram with   more than 97,000 followers. Her pictures serves as the bait that captivates her followers on Instargram. Even her random tweets gets retweeted. That is Genny's star power at work. She recently took to her Twitter account to express her thoughts saying she didn't call Nollywood bland and mediocre.
2face Idibia
As one of Africa's music powerhouse '2baba' as he is often called by his fans also commands huge following on Twitter and Instagram. He often tweets in pidgin English and his unassuming nature also reflects in his social media interactions with fans. He has 792,000 followers on Twitter(as at the time of this report), and also has more than 100,000 following on Instargram.
Omotola
On social media Omotola can be compared to the characters she plays in movies. She can decide to switch to a counsellor, an advocate, a caring mother, or simply being the 'Omosexy 'fans can't get enough of.
She is the first Nigerian celeb to hit 1million likes on Facebook. .Omotola is known to use her     Twitter account as a tool for advocacy. She lent her voice to pressing national issues like the abducted Chibok girls case and other subject matters.
Tiwa Savage
She is undoubtedly  of the leading female acts in the Nigerian entertainment landscape, Tiwa Savage   also leads on Twitter with over 706,000 followers (as at the time of this report) and more than 66,000 followers on Instagram. The 'Kelekele' love singer     is not quiet on the social media landscape .She uses the platform to create buzz for her brand, share her love tales, and   also throw jabs at anyone who steps on her toes.
Banky W
Banky seems unfettered despite being criticized severely     on the social media for having a huge head. His instagram account boasts of more than 48,000 followers, while on Twitter he is a 'Bankable' celeb as he boasts of     792,000 followers on Twitter. Mr Wellington's no holds barred persona, humour, sensitivity ,and ability to connect to fans sets him apart on the social media.
Dbanj
These days the kokomaster hobnobs with the rich and famous. From Bill Gates to Aliko Dangote, we were told of his meeting with them via his Twitter and Instagram. Dbanj has over   900,000 twitter followers gradually moving into the million realm. His humour, trademark eclectic nature and his unpredictable personality seems to be one of his selling points on the social media. He goes by the moniker' Bangalee Ejanla' on Twitter
Davido
Being a rich kid  sure comes with its perks as Davido doesn't hesitate to flaunt his latest material acquisitions(from cars to wristwatches)on his social media accounts).Just like his colleague Wizkid, the 'Skelewu' sensation doesn't   act like a sheep on the social media scene, instead he fires back at anyone who steps on his 'tail'.
Wizkid
When it comes to being on top of social media engagement, Wizkid knows his onions. He relates as though he is the dude sitted next to you in a cab. Little wonder he is the most followed Nigerian celeb on Twitter with 1.16millions (as at the time of this report).
Even though he doesn't hesitate to throw jabs at whoever criticizes him, the star boy has learnt the     art of appealing to the emotions of his fans and also shares goodies from time to time. His official Twitter handle is @Wizkidayo. On the Instargram platform, he has over 150,000 followers. The versatile singer sure knows how to 'Holla' at his fans.
TontoDike
One word comes to mind when you think of Tonto Dike on the social media landscape , its drama. Her social media accounts are   action packed like the role she plays. She is known to have been in several twitter brawls and isn't repenting anytime soon. She almost got into NDLEA trouble for posting marijuana pictures on her instagram page .She has more than 44,000 followers on Twitter and close to 47,000 followers on Instagram.