By JOSEPHINE IGBINOVIA
Inspite of almost sounding a cliché, violence against women -VAW-has unabatedly gained prominence with an estimated one in five women round the world suffering from one form of abuse or the other.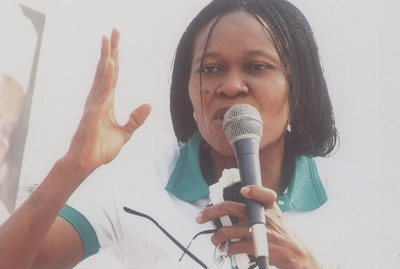 While most women continue to struggle with the menace, a few, like phenomenal Dr. Josephine Okei-Odumakin, President, Women Arise for Change Initiative, have, against all odds, broken every pinch of its hold on their lives. Joe, as she is fondly called, has gone on to liberate other women.
Little wonder she was in 2013 honoured with the United States International Woman of Courage Award among other inestimable awards already adorning her shelf.
In this interview, Joe bares her mind on issues surrounding women's struggle in Nigeria including the saga of the three Ejigbo, Lagos women who were sexually abused by some men after they were allegedly caught stealing pepper.
Some claim gender prejudice does not exist but how come violence against women persists?
That claim cannot be substantiated because disparity exists in every sphere of the Nigerian life; and it is very obvious. Socially, politically and economically the disparity between men and women are noticed.
The fact is, as in other male dominated societies, the social relations and the activities of Nigerian women and men are governed by patriarchal systems of socialisation and cultural practices which favour the interest of men above that of women. Consequently, a high percentage of women's employment is restricted to low income generating activities, concentrated within the lower levels of the unregulated, informal sector, which are not adequately represented in the National Accounting Systems. By comparison, men employed within the informal sector are located in the upper levels and are predominantly engaged in higher income-generating activities.
Gender inequalities within the overall society, and across all sectors, reflect the wide disparities between women and men which, in turn, contribute to uneven development and feminisation of poverty. Among the 70% of the population estimated to be living below poverty line, over 65% are projected to be women. Income and purchasing power is estimated to be US$1,495 for men as compared to US$614 for women and men have greater access to high-paying, secure employment. For example, 76% of the Federal Civil Service workers are men, whereas women make up 24% of the workforce and occupy less than 14% of the overall management positions, despite the appointment of women to the position of permanent secretaries since the year 2000 in line with the affirmative action initiative.
Additionally, approximately 17.5% of medical doctors are women whereas 82.5% are men. These disparities have a significant impact on the capacity of women and men to contribute to the economic growth of the country, the reform agenda, and efforts to reduce dependency ratio within family units and achieve desired value reorientation goal of government.
Should one blame this disparity on society, men or women themselves?
You see, Nigeria is a highly patriarchal society, where men dominate all spheres of women's lives. Women are therefore in a subordinate position particularly at the community and household levels. The dominance of men in all spheres of the Nigerian life is the major cause of the existing disparity between men and women.
You will agree that violence against women seems on the rise despite legislative measures already in place. Could it be because men are jealous about women's liberation- economically, politically, socially and otherwise?
I do not think so; I think it is beyond that. Women are not even yet liberated that much, so, there is no basis for jealousy. The issue really is the bad economy, the high level of corruption and poverty. There are lot of frustration around because nothing is really working and people are not finding things easy. This is therefore resulting in too much transfer of aggression
Furthermore, the patriarchal nature of our society has continued to encourage violence against women because men will always want to prove their supposed superiority over women.
You've been at the forefront of women's movement in Nigeria for ages; would you say women have gained certain level of liberation and progress compared to the 70s and 80s?
Well, there are some level of improvement and progress compared to what obtained in the 70s and 80s. The proactive stance of Nigerian women's movement actually changed things but it is not yet Uhuru. From the year 2000, the demand for more women in elective and appointive positions increased with more women organisations springing up and more people lending their voice to the need to involve women.
The 2003 general elections also provided an opportunity though the gains were nothing to write home about. It was however a departure from what obtained in the 70s and 80s. The 2007 elections provided a better opportunity because there was an improvement in the number of women in elective and appointive positions. However, this dropped drastically in the 2011 elections and this became very worrisome for women movements in Nigeria.
Upon this development, women groups started re-organising themselves and making more demands. Though the present administration of President Goodluck Jonathan has tried to improve on appointive positions for women, it is yet to meet the 35% affirmative action.
What issues have refused to give way in this struggle for women's liberation?
Out of the several women issues, women political participation has remained a very disturbing issue because all efforts and work to open up the space for women so that we can have more women in elective positions have not been yielding desired result. There is no internal democracy in the political parties and this has continued to bare women from having equal political opportunity.
You're a delegate at the national conference; what agenda is being put forward on behalf of Nigerian women?
Women at the conference have organised themselves and are pushing for gender mainstreaming in all sphere of live, and part of the agenda is to demand the full implementation of the 35% affirmative action.
Women represent over 60% of Nigeria's population and therefore deserve to be adequately included in this discourse of setting the path for the future of this country; so far, would you say the conference has recognised this fact?
Well, the women at the conference have established this fact through their contributions and they are already galvanising themselves to ensure that women issues are brought to the front burner of discussions at the conference.
Still on violence against women, let's take the saga of the Ejigbo women (Ejigbo 3) for example. Do you think the magnitude of ill-treatment meted on those women was based on their gender?
It was obvious that the Ejigbo women suffered all that because they were women. No man will be treated that way. From the video clip you will see that the genital was the men's point of concentration. They humiliated and tortured those women so much. Part of the story was that one of the culprits had once asked one of the victims for an amorous relationship which was rejected by the woman. If it were to be a man one is sure that they would not have gone that far. they are likely to have asked for some sort of settlement and 'die' the matter amongst them.
You're greatly respected despite being a woman; are there traits women need to imbibe to personally prevent being abused?
Women will need to be assertive and more courageous. They need to believe in themselves rather than allow anyone use them or see them as second fiddle. All sense or acts that make them inferior should be removed at all times. Wherever they find themselves, they shouldn't let anyone relegate them to background in the scheme of things. It is very important to break the culture of silence among women. So, we must learn to speak out in the face of oppression and tyranny.
I personally took that decision a long time ago when I was much younger. I decided never to keep quiet in the face of oppression. I hate injustice and whenever I have the opportunity, I stand for justice. I do not mind whose horse is gored, I go all out to demand justice and will not mind to pay the ultimate price. During the military era, I was arrested severally and detained more than 18 times in various military and police camps including Kirikiri, Alagbon and SSS cells but my spirit was not daunted. I pressed on in the midst of danger and death. Several times I have met with very stubborn challenges but my persistence brought success.
Women have made so much hype about the 2015 general elections. Now, it's only a few months away. How prepared are Nigerian women?
We still have a long way to go in this regard. The few months we have to the general elections in 2015 are not enough for the kind of work we needed to do to enhance women's political participation in Nigeria. We actually ought to have started much earlier than now.
However, there are quite a number of efforts going on right now. Various women groups are engaging at different levels. There is the More Women group which is already engaging political platforms and demanding that political space be opened up for the inclusion of more women to contest election come 2015.
Some groups are working at the grassroots level, identifying women with potentials to vie for elective positions at the local government level. Some others are engaging women leaders in the political parties so as to sensitise them towards the need to look beyond just being party members. So there are lots of efforts that are on-going and all of these are preparatory towards the 2015 general elections. I am optimistic that by the time all these activities add up, we are likely to record some achievement better than what we got in the 2011 elections
Are they getting ready to win over elective seats or just waiting for appointments?
With all the on-going activities, I want to believe that women are getting ready for more elective positions. But we would also continually demand for more women in appointive positions.
What's Women Arise doing also?
At Women Arise for Change Initiative, in the next 12 months, starting from May 1, 2014, we are going to be engaging women, political parties and women political aspirants towards enhancing women's political participation in three South West states. We are also at this stage carrying out voter education for some grassroots women groups in order to sensitise them on their political roles and the reason to take part in politics.
Have you noticed the insurgent in the north is beginning to glide towards women, with the abduction of school girls?
It is a very worrisome development. It is clear that the insurgent has shifted to women and girls most especially. This is a very bad development. It is very unfortunate that innocent girls- Nigeria's future, are now the target of Boko Haram, and this is why some of us from various organisations and groups have decided to coalesce into a movement to brainstorm on the way out of this very ugly development.
Is the Nigerian government doing enough to rescue these girls?
Government action and effort is surely not enough. The way they are going about it has even showed that the situation is beyond them. Look at the conflicting figures they are giving regarding the number of girls that were abducted and the ones that escaped from the abductors.
A more proactive stance is needed at this stage. It is very important that all hands be on deck at this point so as to end the insurgence.