By  CHIOMA ONUEGBU, Uyo
It's bizarre. Baby factory      businesses and child stealing have become a twin social menace plaguing the country today especially in the Niger Delta and South Eastern states.
The heinous acts reportedly appear rampant in Imo, Abia, Akwa Ibom, Rivers, Anambra, and Cross Rivers States.
In Akwa Ibom, for instance, between January and April, 2014, about four baby factories were uncovered and no fewer than 70 operators of the illegal trade and their pregnant teenage victims paraded by the police in the state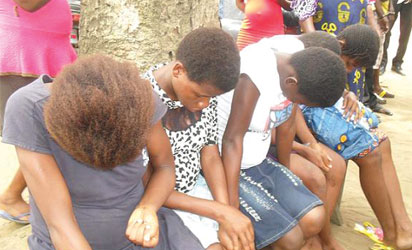 One of such was the parading of a so called prophetess who was arrested by police operatives in Edet Akpan Avenue in Uyo on 20th February 2014 for operating a baby factory under the guise of running a religious organisation identified as Jubilant Garden Ministries. Her ministry has been nurturing pregnant teenagers who deliver babies for adoption from members of the public.
Also on the 12th of March 2014 the police uncovered another baby factory at NEPA line in Ikot Ekpene local government area and arrested some of perpetrators.
They had eight pregnant teenagers in their fold. Again, on April, 2, 2014 the state witnessed yet another case where over 50 suspects arrested in   Imo, Anambra, Kogi, Abia and Akwa Ibom states were paraded by state Department of the State Services, DSS, in connection with child stealing and the unlawful sale of Children.
Many in the state had expressed concern that the successive cases were a confirmation that the problem was growing rapidly and perpetrators becoming more ingenuous in their operations.
Baby factories are were poverty-stricken teenagers are paid a token to mother children who would eventually be sold out to childless couples. Legal processes of adoption are usually sidetracked.
Akwa Ibom government appears to be pulling strings to check the menace but the trade is still on. There are regular and massive sensitization campaigns, jingles, and advocacy.
Recently the governor's wife, Mrs. Unoma Akpabio accompanied by the wife of the Secretary to State Government, SSG, Mrs. Martha Udom Emmanuel and the Commissioner for Women Affairs and Social Welfare, Dr. Glory Edet embarked on child rights sensitisation tour to churches in Obot Akara, Essien Udim and Abak local government areas.
They advised parents on the need to take protective measures against child thieves, and baby factory operators, by refraining from giving out their children for monetary gains to people with questionable character who would eventually turn their children into servitude as child labourers or sex workers. They were worried by the growing cases of baby factories. They said that government was determined to ensure that violators of the Child Rights Law were brought to book.
Commenting on the baby factories, the Commissioner for Women Affairs and Social Welfare, Dr. Glory Edet said that operators of Baby factories would be prosecuted.
It is there in the Child rights law that parents cannot abandon their children between 1 and 18 years old. And because we don  t want our children to fall victim we also advise the young girls that they should be guided. That is why in one of our fliers we say, Stop baby sales now. A baby is not a commodity.
Edet further disclosed that some Directors in her ministry were already investigating the activities of privately run orphanages and homes in the state. She said that those found guilty of operating illegal and unregistered businesses would be prosecuted.
On his part, the Police Public Relation Officer, PPRO, Mr. Etim Dickson said although the baby factories have become an issue of serious concern, the security operatives in the state have been very proactive over the matter and that this explained the reduction in the trade in the past two months.
However Mr. Saviour Akpan, State Representative of Center for Law Enforcement Education in Nigeria, CLEEN expressed the view that the illegal baby factory operators would not have been operating if the Ministry of Women Affairs were doing their work properly.