BY DOTUN IBIWOYE
Following recent claims by the Lagos State Government, LASG, that it is currently executing across the state at least 205 road projects, residents who spoke to Vanguard disagree with governor Babatunde Fashola.
According to Fashola, who spoke at the commemoration of his 2,600 days in office, penultimate Friday, some of the road projects being executed are the Ago-Palace Way, Okota, Ibeshe Road, Ikorodu, Langbasa and Unity Roads in Ajah, Ikotun-Ijegun Bridge, Ayobo-Ipaja Road, Alimosho among many others.Pointing that litigation over right of way had delayed the delivery of the Ago-Palace Way.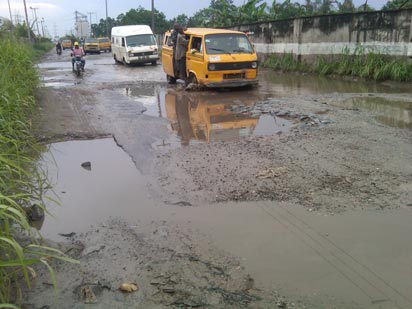 He however noted that his administration has always given attention to roads with large volume of traffic and those with more socio-economic impact on the lives of the residents.
Affirming that work was at an advanced stage on the Ikotun-Ijegun Link Bridge, and will soon be delivered, he added that estates under execution are Pa Omojola Estate in Gbagada and Oba Lateef Adams Estate in Agege, noting that they will reduce accommodation problems in the state.
However, reacting to these claims, Ibekwe Ngadi who lives and works at Alaba International Market, Ojo said: "I was born and bred in this state, so I am also a Lagosian. The point is that the roads in Lagos are bad. The roads that government claims it has rehabilitated are already collapsing. I know the government is trying, but their efforts have not reflected so much in ameliorating the frustration residents go through everyday to and fro their business arenas."
However, Olanipekun Akinbo who lives in Ketu said: "I have seen a great improvement on our roads in Lagos, but I do not feel the government is doing enough in terms of road rehabilitation. Some of us have been to neighbouring African countries who have good roads and we see how useful the inner-city roads are well tarred and this reduces traffic on the major roads. But in Lagos here, residents go through hell on daily basis."
For Ejiro Uzezi who lives in Akute: "It is not necessary to have a dual carriage on the streets or inner-city roads. What matters is for the roads to be constructed. I do not agree with government's claim on the 205 roads being constructed, because everyday, I still spend over two hours on roads, that normally would take less than 30 minutes to ply.