By Emmanuel Elebeke
The United Nations, UN has advised  Nigeria to pay more attention to the informal sector of the economy. It said if well developed, the sector would make unprecedented impact on the economic development of the country.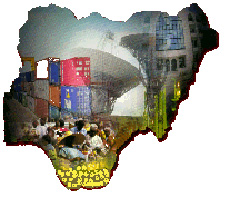 Resident Coordinator/Representative of UNDP, Mr Daouda Toure, stated this at the validation meeting for the report on 'Informal Sector and Economic Development in Nigeria held in Abuja.
Toure said the review has become necessary because the sector contributes about 57.9 per cent of Nigeria's Gross Domestic Product, GDP, and can no longer be ignored by the government. He said the informal sector deserves to be taken care of since it comprises of the larger chunk of the people in the society. He noted that allowing operators in the sector to access some social services, improving on the condition of their services to be able to cater for the health of their families is one formidable way of making growth inclusive.
"The informal sector should be well taken care of because it is comprised of so many people in the society, allowing them access to some social services and improving on their condition that enables them to cater for the health of their families is one formidable way  of making growth inclusive. The support has to also go hand in hand with some contribution from informal sector, because throughout the world, people are not reluctant to paying taxes, if they know that the taxes they are paying is going to benefit them and their families.
"I think it is a win-win situation. If you know how wealthy the informal sector is, investing in them, allowing them to have skill development, allowing them to access credit, the more it benefits them, the more it benefits the economy," he said.
Continuing, Toure said: "The figure for Nigeria is currently estimated at 57.9 per cent of GDP. Across the globe, the informal sector has grown in size and value. The estimated average size of the informal economy as a percentage of the official Gross National Product, GDP in year 2000 was 41 per cent for developing countries, and 38 per cent for transition countries. It is also estimated that 60 per cent of female workers in developing countries are in informal sector.
"Although, the informal sector has been expanding rapidly in the 21st century, its specific role in the economic development of many countries is yet to be fully documented. The relationships between the informal sector, economic growth, and poverty are not fully clear. As such, governments at all levels are making efforts to design the right policies required for enhancing the performance of the informal sector; and strengthen its linkages to economic development," he added.