BY Emmanuel Aziken, POLITICAL EDITOR & Emman Ovuakporie
ABUJA—THE House of Representatives yesterday mandated an investigative inquiry into last Monday's ugly incident where soldiers of the Nigerian Army reportedly insisted on searching the convoy of the speaker, Aminu Tambuwal, before he could enter a public function in Kaduna. .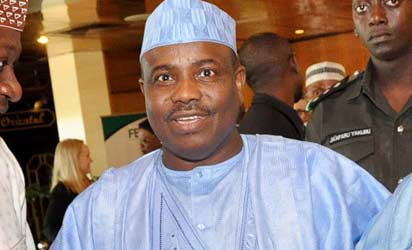 But the speaker yesterday declared that he was not above the law, nor was he averse to being subjected to security screening, but stated that it was expected he enjoyed some level of protocol and privileges in view of the position he occupied.
The speaker and his entourage, it was reported, were about to gain entrance into the venue of the International Conference on Security and Development Challenges of Pastorialism in West and Central Africa when soldiers on guard insisted on searching his official car.
When the soldiers would not yield to the protests by Tambuwal's security aides, he was said to have alighted and walked the remaining distance to the venue of the conference, Hotel 17, along Lafia Road in Kaduna.
The House, which began regular plenary after its end of third legislative session break yesterday, went into a closed door session over the matter for about two hours, and resolved to mandate its committees on Defence, Army, Police Affairs, Interior, Public Safety and National Security to investigate the matter and report back within one week.
Chairman of the House Committee on Works, Ogbuefi Ozomgbachi, had earlier in a motion moved under matters of urgent public importance, condemned the action of the security personnel, saying it was a dent on the entire membership and institution of the House which Tambuwal represented.
Meanwhile, the National Security Adviser, Col. Sambo Dasuki, rtd. has apologised to Speaker Tambuwal over the incident on Monday when he was stopped and his vehicle searched on his way to a security conference in Kaduna.
Dasuki conveyed his apology to the speaker in a letter delivered to the National Assembly yesterday.
Sources privy to the letter disclosed that the NSA apologised for the action carried out by soldiers and pledged that it would not happen again.
In the one page letter, the NSA added that he has the highest regard for the person and the office of the speaker.
He said the action was not in any way conceived to embarrass the speaker.