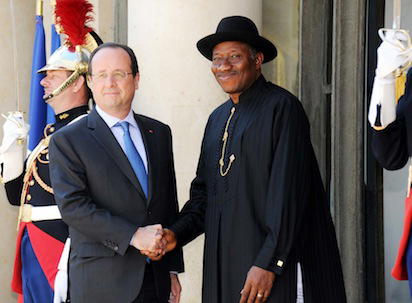 PRESIDENT FRANCOIS HOLLANDE OF FRANCE (L), WELCOMING PRESIDENT GOODLUCK JONATHAN TO THE PARIS SUMMIT FOR SECURITY IN NIGERIA AT THE ELYSEE PALACE, FRANCE ON SATURDAY (17/5/14).
BY VICTORIA OJEME, NDAHI MARAMA, Emmanuel Elebeke & LAIDE AKINBOADE
ABUJA— FRANCE, yesterday, declared that the Boko Haram sect will be treated like Al-Qaeda, just as the sect's members, again, killed 29 people in a Borno border village.
Also, yesteday, President Goodluck Jonathan declared that although the Chibok school girls have not been rescued 39 days after their abduction, he was not slow in the rescue operation as he was in constant touch with his security chiefs on a daily basis.
French Ambassador to Nigeria, Jacques Champagne de Labriolle, who made the declaration in Abuja said his country would not hesitate to offer intelligence support, pointing out that collective effort was needed to tackle insurgency.
He made the remarks while speaking with newsmen at the reception organised by the Chinese Embassy to mark the assumption of duty of the new ambassador to Nigeria, Gu Xiaojie in Abuja.
He said: "As a matter of fact, we live in a situation that is very different from what happened before. Before, we had international network and people on ground and each with a local course, the connection now is much simpler to establish.
"Therefore, we believe the mobilization against Boko Haram should be the same as the mobilization we have seen before against al-Qaeda and for the same reason.
"These people cannot stop; it will only be getting worse and (it) has to be dealt with collectively. It is well known that a lot of connections are existing among a kind of dark side of globalization, where you can find drugs, money and people," he said.
Labriolle said his country offered to assist in finding the missing girls because "Boko Haram problem is not only a Nigerian problem but a regional and international problem.
"As for the girls, the idea is to localise where they are; this requires intelligence. What can be done in Nigeria on the ground will be done by Nigerians, not by us. What we can do is to help in intelligence. Locating 200 girls is both easy and difficult, depending on the size of the population of a country."
Also speaking to newsmen, the Israeli and Chinese ambassadors, Uriel Palti and Gu Xiaojie respectively, spoke on the commitment of their countries to flush out insurgency in Nigeria.
For Mr Palti, "Boko Haram, Alkeem, Al-Shabbab in Somali, etc, are all part of the arms of Iran; the influence of Iran, Al-Qaeda influence.
"We share the challenge of Nigeria. So, we have to fight international terrorism legally, militarily, religiously, by all means."
According to him, the Israel Prime Minister, Benjamin Netanyahu, condemned these terrorist attacks and offered Nigeria the assistance of Israel in combating terrorism.
On the composition of the Israeli team in Nigeria, he simply said: "I won't go into details but as I told you, the telephone call between Prime Minister Netanyahu and President Goodluck (Jonathan) was a sign of great friendship between Israel and Nigeria."
His Chinese counterpart, Mr Xiaojie, who condemned terrorist attacks in the country, said his country's position was against any form of terrorism, especially violence against innocent people.
He said China had taken note of Nigerian government's request and was ready to help in combating the insurgents.
Boko Haram: Again, 29 killed in Borno border village
At least 29 people were killed in Chukungudoua village of Gamboru Ngala Local Government Area of Borno State when some Boko Haram terrorists laid ambush on Wednesday, morning.
The attack, according to a resident, Mallam Bakura Mustapha Alhaji occurred barely 10 days after the withdrawal of troops from the village.
Chukunguduoa village, predominantly Kanuri and Hausa extraction is a border community between Gamboru and Kala Balge council areas of Borno and Cameroon Republic and about 174 kilometres drive from Maiduguri, the state capital.
Within this month, some terrorists invaded Gamboru Ngala Main Market, killing over 300 people, mostly traders with the setting ablaze of the entire market and over 100 vehicles. Likewise, two weeks ago, over 200 members of the terrorists group were killed in three villages of Kala Balge Council area by residents after all the weapons used by the terrorists failed to work/operate in the botched attack.
Sources said, the gunmen using 15 vehicles and several motorcycles with AK-47 rifles, Improvised Explosive Devices ( IEDs) and petrol bombs stormed the village at about 11am on Wednesday when most residents were on their farms and opened fire on harmless residents, killing 11 people, while 18 of those who were charmed against gunshots were crushed by the terrorist's vehicles.
Another source said, after killing about 29 people, many residents of the village also sustained gunshot wounds and are now receiving treatment at an undisclosed hospital in Cameroon Republic.
He said the whole buildings in the village were completely razed down with only three structures remaining untouched by the attackers, while the 29 dead bodies were still lying on ground as most of the villagers who were supposed to bury them according to Islamic rites all ran away from the village. They are taking refuge in Gamboru Ngala and other neighbouring villages of Cameroon.
"As I am talking to you now, we have counted 29 dead bodies on the streets, out of which, 18 were crushed down by vehicles while 11 have gunshots wounds on their bodies. The whole houses and shops were razed down, the village is deserted with no presence of security operatives.
"Some of our people have fled to Gamboru Ngala council area, while others fled into neighbouring Cameroon villages. Please I am appealing to you to tell government about the situation we found ourselves in. It is really shocking, 76-year-old Mallam Jidda Yaro Mamadu said.
The Police Public Relations Officer, DSP Gideon Jubrin could not be reached for confirmation at press time, but a top security source, confirmed the incident.
"Yes we received a message that one of the border villages in Gamboru Ngala was attacked by some group of terrorists on Wednesday morning killing 29 people, while the entire village was set ablaze by the insurgents."
Chibok girls: I am not slow— GEJ
Meanwhile, 39 days after the abduction of the over 200 Chibok girls in Borno State, President Jonathan, yesterday, condemned in strong terms the insinuation by some Nigerians that he was slow in bringing back the abducted girls.
He stated this while addressing the protesters from #Bring Back Our Girls campaign group in Abuja.
He said he was not slow in acting because he was in constant discussions with security chiefs on a daily basis as well as having constant consultations with regional and global partners on the terrorist threats.
He also said that the Federal Government took action from the first day the girls were abducted, and directed the security services to go after the abductors, noting that the search for the girls had now assumed regional and global proportion and that Nigeria had received strong support from neighbouring countries and the international community, including the United States, China, the United Kingdom and the entire African continent.
"It is wrong and most unfair to suggest that there has been slow reaction to this kidnapping. From the very first day this occurred, the Federal Government took action directed our security services to go after the abductors. The search for our daughters has now assumed regional and global proportion and our nation has received strong support from neighbouring countries and international communities
"We are working hard with other nations in order to secure the release of the girls as soon as possible", the president said.
The President was represented by the Secretary to the Government of the Federation, SGF, Senator Anyim Pius Anyim and FCT Minister, Bala Muhammed, and Minister of State, Oloye Olajumoke Akinjide, Minister of Environment, Mrs. Lawrencia Laraba-Mallam, Minister of Niger-Delta, Mr. Darius Ishaku,Minister of Information, Mr. Labaran Maku, Senior Assistant to the President on media, Dr. Rueben Abati and the Senior Assistant to the President on Public Affairs, Dr. Dorun Okukpe among others.
The President also in the speech read by the Minister of State FCT, Oloye Olajumoke Akinjide, further explained that federal government as part of efforts to rescue the abducted girls had mobilized all resources, military and diplomatic in the search for our girls.
Similarly, he stated that the security forces also had reached out to the Borno State government and community members for support and collaboration to bring back the girls, adding that the search for the girls is receiving support.
"So far, the search for our girls is on and is receiving global support. Nigeria in collaboration with Niger, Chad, Cameroon and Benin republic have all agreed to establish a single centre for sharing intelligence on the activities of terrorist across our national boundaries. Apart from those efforts in the public space, the President said federal government had initiated consultations with so many stakeholders to explore alternative matters of resolving this crisis.
"As commander in chief, I meet with security chiefs almost daily and is in constant consultations with regional and global partners on this terrorist threats. As early as January 23 2013, I asked the world help in tackling terrorism, I later met with President Obama during the United Nations Assembly meeting in September 2013, where also I requested for the support of the United States of America.
"Government belief we must all come together to fight terrorism and that protest should be directed to the terrorists who have abducted our girls. Our security men are among the best trained in Africa, they are making so much sacrifice in the fight against terror," he said.
In her response, one of the leaders of the group and former minister of education, Dr. Oby Ezekwesili, said the group felt disappointed for not meeting with the President stating that none of the issues raised in their letter was addressed in his speech and sought for another audience with him, describing the meeting as a colossal missed opportunity.
"Let Mr. President know that none of the issues raised have been addressed. We actually felt sad at the missed opportunity, there is a colossal missed opportunity but citizens that gathered here today are citizens who are saying, we do not want any fractious fight against the common enemy. That we want a united fight.
"We are not the type that you should be telling about the citizens of Iraq and Afghanistan. We will demand from President another opportunity of a meeting of addressing the issues that citizens have put before our commander in Chief. We seek the opportunity of a united nation inspired, mobilised and sincerely spoken to and we want to have that discussion and end to terrorism," she posited.