By Soni Daniel, Regional Editor, North
The Chief of Defence Staff, Air Chief Marshal Alex Badeh, has reportedly incurred the wrath of the Presidency over his claim that the military has sighted the 270 girls seized from the dormitory by Boko Haram terrorists last month.
President Jonathan, it was learnt Wednesday, was unhappy with the claim by the defence chief, which he considers as a breach of military tactics capable of hindering the move to free the children, who have been in the kidnappers' den for the seven weeks running.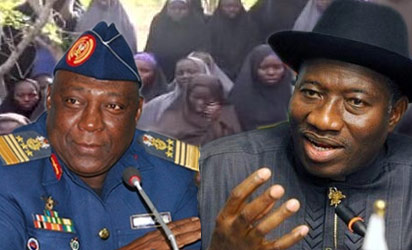 A top Presidency source told Vanguard last night that the Jonathan considered the CDS claim as an unnecessary outburst, which could frustrate ongoing efforts by the multinational team currently in the country to salvage the girls.
The source, which did not want to be quoted because he was not authorised to speak to the press on the matter, said President Jonathan was still at a loss as to why Badeh made the statement at a time he was expected to be more cautious over the contentious issue, which is generating interest across the globe.
"Indeed the President is really upset over the claim and we do not know what will happen," the source said but did not give further details.
Vanguard further learnt that the claim by the CDS was the subject of analysis during the weekly security meeting between security chiefs and the President last Monday.
Badeh had during a solidarity rally organised by the Citizens Initiative for Security Awareness, led by its National Coordinator, Mr. Chidi Omeze, outside the Defence Headquarters, Abuja on Monday, said that the military was aware of the location of the Chibok girls and that something was being done to free them.
Badeh said: "The good news for the girls is that we know where they are but we cannot tell you, we cannot come and tell you military secrets here. Just leave us alone, we are working, we would get the girls back."
He stated, "We want our girls back; we want our girls back; we can do it, our military can do it but where they are held, can we go with force?
"If we go with force, what will happen? So nobody should come and say the Nigerian military does not know what it is doing. We know what we are doing; we can't go and kill our girls in the name of trying to get them back. So we are working," he said.
The Chairman Senate Committee on Education, Senator Uche Chukwumerije, has also slammed Badeh over the claim, saying that it was unnecessary in counterproductive to the current move to free the children and reunite them with their parents.