BY JONAH NWOKPOKU
Nigeria's online retailer, Konga.com made a transition recently  from being just a retailer to a marketplace. The implication is that it is no longer only in the business of buying and selling, it now grants access  to other businesses to trade using its platform. The firm said   the transitio is landmark.
And in  this chat with People in Business, Konga's  Head of  Marketing, Gabriel Gab-Umoden explained how the marketplace works and how it will contribute to the growth of the Nigerian economy. The marketplace, he maintained, is a revolutionary platform that wants to solve unemployment and drive economic growth and development by bringing Nigerian businesses online.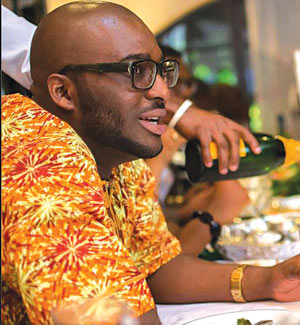 Reason for transition
He explained that the firm did not make the transition just for the money since they believe that the marketplace will further contribute significantly to Nigeria's gross domestic product.
"With the marketplace, we are making a long term investment not just into retail but into Nigeria as a whole.
Right now e-commerce in Nigeria is at two percent and the total contribution of the internet to GDP in Nigeria is less than one percent, and we believe that with this marketplace we can begin to dream of pushing some of these frontiers and achieving remarkable growth and development in Nigeria.
"About a year ago, we realized that for our services to be really valuable to society, we had to build a platform for anyone, not just Konga, to sell and prosper. Konga had to build a platform that allowed every entrepreneur and business in Nigeria and beyond equal opportunity to reach millions of customers.
Our marketplace is not limited by a warehouse or physical space but built upon the great technologies of the internet and mobile devices. This new platform is already revolutionising the way buyers and sellers interact, with a model that is more convenient for the seller and more attractive to the buyer and we are already receiving great feedback from both parties. This is indeed the future.
Its benefit and potential he said are unquantifiable as it will help to drive employment, trade, economic growth and development not only in Nigeria but in the entire African continent.
"ICT is already providing jobs for Nigerian youths, and our marketplace will step out and help this in many ways. Just imagine the multiplier effect this will have on the economy, on businesses, the need to employ more hands, to increase stock, etc.
The technology component of the marketplace is enormous, and already Konga is employing fresh engineering graduates from Nigerian Universities like Obafemi Awolowo University, Ife and Federal University of Technology, Owerri, and linking these graduates with relevant technologies and exposure that is helping them build long lasting technologies for Nigeria.
"Trade, employment, economic growth and development are some of the broad objectives we have as a country every year, and this marketplace will serve as a bridge in solving some of these problems."
Contribution to GDP
What is the implication of this development for e-commerce in Nigeria? Umoden said the marketplace is adopting a strategy that will help to drive Nigeria's contribution to the gross domestic product.
"GDP attributable to internet would be relatively big in Nigeria and e-commerce would be a dominant component of iGDP. The zero-commission based marketplace is the first of its kind in Africa and will be a force to truly unlock the potential of Nigerians. The marketplace place has the capacity to provide thousands of jobs for different classes of citizens with its interconnected systems.
He further explained that, "According to a Mckinsey report in November 2013 titled "Lions go digital: The Internet's transformative potential in Africa", Africa's iGDP (which measures the Internet's contribution to overall GDP) remains low, at 1.1 percent – just over half the levels seen in other emerging economies.
But there is significant variation among individual countries. Senegal and Kenya, though not the continent's largest economies, have Africa's highest iGDPs, and governments in both countries have made concerted efforts to stimulate internet demand. Without a doubt, the undeniable impact of the internet as a determining factor of Africa's emerging economy can only be forecasted as one that will be monumentally progressive.
E-commerce is about to truly explode in Africa and we are happy at the humble role we plan to play in pushing this to new frontiers."
How the marketplace works
Explaining how the marketplace works, he said, "With the marketplace, everyone can buy and sell online. Coming on the marketplace is totally free for the business owners right now, the Merchant fills a registration form, Konga approves and creates merchant store, merchant creates products, products are displayed on konga.com, customer buys, merchant delivers to customer via selected courier services, Konga pays merchant, and transaction is concluded."
Unlike the business-to-consumer retail platform, the marketplace aggregates different sellers and retail stores and customers can enjoy a wider offering and better competitive pricing. Business can get wider exposure with special testimonials, social media and other avenues available to drive their businesses.
Umoden said, "Our vision is to be the force of trade and commerce in Africa, and the marketplace is a big step for us as we journey towards meeting this vision. We have made a name as not just Nigeria's largest online retailer but also as the most customer-centric platform, and these are some of the benefits that these businesses will enjoy.
For the customers we have developed the Konga Escrow system working with Nigeria's leading banks, where we provide a 100 percent purchase protection. Under this system, we only release funds when both the buyer and seller are happy with the arrangement. Konga Escrow allows for secured and easy payment online without exposing customer ATM/Debit Card details and payment is only made to the seller once delivery has been confirmed by the buyer."