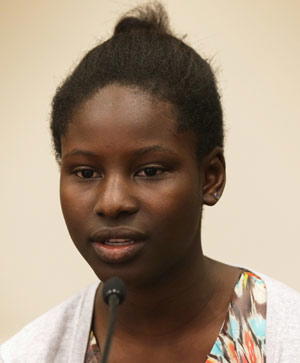 Deborah Peter
Deborah Peter was 12 years old when gunmen from the Nigerian terrorist group burst into her home in northern Nigeria and shot dead her father, a Christian pastor, and her 14-year- old brother Caleb, and then forced her to lie with their corpses.
She was attacked in 2011, well before Boko Haram's abduction of more than 250 schoolgirls and young women in April finally drew international attention and condemnation.
Peter is from Chibok, the same small town where the girls were kidnapped by the Islamic terrorist group, whose name is interpreted as "Western education is forbidden."
"I decided to tell the world my story when the Chibok girls were taken because everyone needs to know how horrible Boko Haram is," Peter said in a statement. "They kill innocent people who never hurt them."#DeborahNPeter
Peter, now 15 and attending a Christian school in rural Virginia, came to the US Capitol to recount her ordeal for leaders of the House Foreign Affairs Committee.
Peter sat in the front row as House committee members, led by Chairman Ed Royce, a California Republican, pressed officials from the State and Defence Departments to do more to aid the Nigerian government in the effort to rescue the abducted girls and young women and step up efforts to help the Nigerian military fight Boko Haram.
So far, Nigeria's human rights record and history of official corruption have hindered U.S. efforts to assist the country's military in fighting the terrorists.
As a young woman whose story helps rivet world attention, Peter's appearance was reminiscent of those by Malala Yousafzai, who was shot in the face by the Pakistani Taliban for her efforts to encourage girls to seek an education.
Peter spoke softly, without evident emotion, in recounting the day she lost her father and brother and then fled her home and subsequently her country.
Her father had been threatened before by members of Boko Haram, beaten up and told to abandon his ministry, she said. On December 22, 2011, gunmen came to her home around 7pm, once more demanding that he renounce his faith.
"My dad refused to deny his faith," she said.
After he was shot, the gunmen debated what to do about her brother, with one of them saying he should be spared because of his youth, she said. Another man said he should be killed so he won't grow up to become a pastor, she said.
Peter said she thinks her father, who had been breathing, died when he saw Caleb shot twice in the head.
"I was in shock, so I didn't know what was happening" as the gunmen forced her to lie down alongside her father's and brother's corpses, she said. That's where Nigerian soldiers found her the next day, she said.
Asked at the news conference what she now thinks of Boko Haram, Peter replied haltingly that "I think they are bad" before her voice trailed off.
Peter said she would have remained in peril in Chibok, where Boko Haram would condemn her because her mother had converted from Islam to Christianity. Another pastor — himself later killed by Boko Haram — paid to get her out of the region, and a group called the Jubilee Campaign helped her come to the U.S., according to information she provided to the House committee. She now attends the Mountain Mission School, a Christian school in Grundy, a small town in southwestern Virginia near the state's border with Kentucky.
Her story has been advanced by Christian religious-freedom advocates, who focus on Boko Haram as anti-Christian in its terrorist activities. Earlier this month, she spoke at the Hudson Institute in Washington.
In testimony to the committee, Sarah Sewall, the US under secretary of state for civilian security, democracy and human rights, said it would be wrong to cast the Boko Haram threat primarily in sectarian terms.
"Certainly, Boko Haram has targeted Christians, and Nigerian officials believe that 85 percent of the girls kidnapped at Chibok are Christians, and have been forced to convert to Islam after their kidnapping," Ms Sewall said. "We want to highlight, however, that Boko Haram is a problem that affects Nigerians of every religion. Indeed, the majority of Boko Haram's estimated 4000 total victims to date have been Muslim."
Taken From Sydney Morning Herald