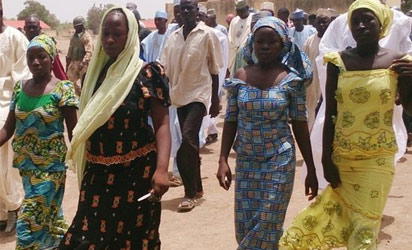 Some of the abducted who escaped their abductors in Sambisa forest in Borno
BY Soni Daniel, Regional Editor, North
As the Federal Government explores ways of rescuing the girls seized by terrorists from their school in Chibok, Borno State, over a month ago, two northern groups have said that there is nothing wrong with the plan by the government to negotiate with the insurgents in order to free the captives.
Chairman of the Northern Elders Council, NEC, Alhaji Tanko Yakassi, and the National Coordinator of Northern Politicians, Academics, Professionals and Businessmen, NPAPB, Dr. Junaid Mohammed, in separate interviews with Vanguard yesterday, threw their weight behind the plan by the Federal Government to dialogue with the sect in a bid to free the more than 200 girls in its custody.
Meanwhile, President Goodluck Jonathan has rejected the idea of a swap of Boko Haram prisoners for the schoolgirls, Britain's Minister for Africa said after talks with him in Abuja, yesterday.
"He made it very clear that there would be no negotiations with Boko Haram that involved a swap of abducted schoolgirls for prisoners," Mark Simmonds told a news conference.
The northern leaders, who are delegates to the ongoing National Conference, said the Federal Government had no option than to negotiate in good faith with the sect to return the children to their parents and end their agony.
He said: "As far as we are concerned, discussion with the group is a step in the right direction. There is no substitute to dialogue. What we want in this country is peace."
The leader of NPAPB, Mohammed, said that despite the provocation by Boko Haram, the Federal Government should seize the offer made by the sect and dialogue in utmost good faith to free the children.
According to Mohammed, the attention of the Federal Government and men of goodwill should be focussed on securing the release of the children unharmed and returning them to their parents.
The Second Republic politician, who described Boko Haram as a repugnant group that does not represent the interest of anyone, asked the government to learn lessons from what the sect had done in recent years and bring it to an end.
While welcoming the assistance of the United States of America, USA, to help find the missing school children, Mohammed said that all other conditions should be subordinated to saving the children.