By SOLA OGUNDIPE
FRom several perspectives, the abduction of over 200 girls from Government Secondary School, Chibok in Borno State, can  largely be described as a major cog in the wheel of progress for the girl child, in terms of education, health and overall wellbeing.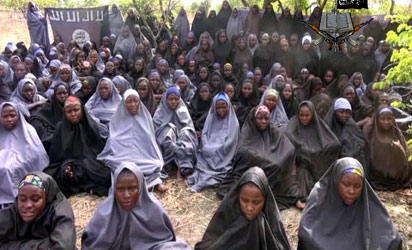 Ahead of the girls' anticipated release, the coalition of reproductive health partners has set in motion machinery to provide psychosocial, physiological and even psychiatric  support and services to cater for their rehabilitation and reintegration into the community. However, no one is in doubt about the indelible scars of their traumatic experience.
Sexual and reproductive health: One of the main concerns  being expressed in different circles about the welfare of the abducted girls  is their  sexual and reproductive health.
In consideration of the high probability that most of the kidnapped girls may have been exposed to acts of sexual violence, notably rape, in the hands of their abductors, the essence of the  stalemated passage of the Violence Against Persons Prohibition, VAPP, Bill once again comes to the fore.
The VAPP Bill is  a proposed legislation that  defines violence, seeks to eliminate violence in private and public life, prohibits all forms of violence including physical, sexual, psychological, domestic, harmful traditional practices, discrimination against persons and provides all round protection and effective remedies as well as punishments of offenders.
Although the Imo State House of Assembly was first to pass the VAPP Bill into law in the country, it is yet to really  get a foothold in other states, even as its passage is pending before the National Assembly.
Last week, at a gathering of reproductive health advocates working for the protection of women's health and advocating women's reproductive health and rights, the calls for passage of the VAPP Bill became more strident.
Forms of violence
The forum, put together by Ipas Nigeria, was yet another platform to highlight the need for passage of laws that would protect women, children and even men from various forms of violence.
One year after it was passed by the House of Reps, the VAPP Bill has scaled the first reading at the Senate. The Chibok Girls' abduction saga is yet another reason to ensure it becomes Law.
Need for VAPP Law: Consensus at the forum was that, had there been a VAPP Law in place at this time, women and girls who fall victims of rape such as the Chibok case, would automatically have the chance to choice of what to do with an eventual pregnancy from such trauma. Lamenting the limited access to reproductive health services for women and girls who are often victims of sexual violence, rape and incest, particpants at the forum reiterated the need for  review of the nation's restrictive and obsolete  laws due to the Human Rights implications of unsafe abortion.
With pressure mounting on the Senate to urgently pass the Bill into Law to give every girl, woman and others, choice of keeping or safely terminating of any pregnancy that may result from acts of sexual violence, the argument for choice is carrying the day.
Call for Choice: "It is about choice. If a Chibok Girl wishes to keep a pregnancy, fine. If  she does not want to keep the pregnancy, she must be allowed to make a choice," said Ipas Country Director, Dr. Nihinlola Mabogunje, who said she has been speaking to people from Maiduguri on the issue.
"Why don't we make sure these girls do not have added trauma to their lives?  "What is happening to those girls? If they are raped and get pregnant, doesn't it give you and I food for thought? It's something we need to think of. Certainly if they are pregnant  by rape, the parents may not likely want them to keep the pregnancy and something would be done. What is done, only God knows.
"If they have opportunity to have information, they would probably secure safe abortion, but if they have no information, they will certainly go to quacks.  In the next 5-10 years when these girls get married and they cannot have a child and they start going from one place to another, it will then dawn on us the need to have taken the right action when it really mattered."
Message to government: Recalling that in Ghana, a woman is allowed to terminate her pregnancy if she is raped or pregnant through incest, she said that country removed the restriction on the law in 1998. Today, Ghana's  maternal mortality ratio is better than that of Nigeria.
"My strong message is that if I can save the life  of 11 women out of 100 dying of unsafe abortion, if I can remove that risk, then why don't we embrace this same law and remove the restriction to allow women who are raped or who become pregnant through incest to take a choice on what they want to do with their lives? So my simple message is that Nigeria should remove the restrictions and give women a choice," Mabogunje stressed.
In his contribution, a professor of Obstetrics and Gynaecology at the Nnamdi Azikiwe University, Awka, Prof Brian Adinma, and President Elect of the Society of Obstetricians and Gynaecologists of Nigeria, SOGON, called for passage of the VAPP Bill to help minimise the complications of unsafe pregnancy termination.
Rehabilitation: Adinma, who is also Coordinator of the South East PacNet, South East zone, said the current galvanisation is now towards making the legislature pass the VAPP Bill, arguing that if Mr. President signed it, it would do a lot towards minimising violence against women particularly.
Unfortunate incident
Describing the Chibok abduction as an unfortunate incident, he said the girls could be fully rehabilitated if handled right.  "The Chibok Girls would require rehabilitation. We should key into the plans that the international agencies have for them. First, each of the girls should be treated as an individual  because each will have various experiences and we would try to see how to debrief them.
"They have been brainwashed, so we will have to de-brainwash them as much as possible. This de-brainwashing will involve personal assessment and must be thorough," he remarked
Recently, the Institute for Health Metrics and Evaluation, IHME, at the University of Washington reported that  even though nearly every region of the world has seen accelerated rates of decline in maternal deaths since the establishment of the MDGs,  in 2013, 293,000 women still died due to complications related to pregnancy and childbirth. A sizeable proportion of the deaths was as a result of unsafe abortions.
A scrutiny of the scorecards  published by Africa Health, Human & Social Development Information Service (Afri-Dev. Info) in partnership with Africa Coalition on Maternal Newborn and Child Health, and Pan African Campaign Against Forced Marriage of Under Age Children also underline the impact of unwanted pregnancy on maternal health.