By Ndahi Marama, Chibok
FEAR of the known pervades any mention of Chibok. It is gripping, unspoken fear, with expected consequences that when I piled inside a bus for the 130-kilometre drive to uncertainty, the only thing I knew was that death could be a part of the trip.
I dared not tell anyone I was going to Chibok. How could I have mentioned that I would embark on a journey that included travelling beside the dreaded Sambisa Forest? What was I searching for in Chibok where fear is life and insurgents could strike at anytime?
Monday was the best day to make the trip. It was Damboa Market Day. It meant that traffic on the risky Maiduguri-Damboa-Biu Road would be busy with many heading to the market. There was assurance that the heavy traffic could deter the attackers, it was a thin hope, but where fear rules, one holds to any strains of hope.
Chibok shows early signs of its bareness. The road from Damboa, where I boarded a taxi to Chibok, is barely motorable. Seven of us squeezed into the small car, three in front, four at the back seat. Nobody appeared to care about the discomfort. We arrived Chibok at 12:25 pm due to the heavy security checks on the way. They checked all parts of the car. Each check point bore its own nightmare. With stories of people in uniform turning insurgents, one could never tell whether it was a check point or a death point.
As we passed by Sambisa Forest, I knew all I needed to cause a scare was to ask the driver to stop. Who else could make such a request? I pondered the idea but discarded it, there were already enough risks on this journey to think up more. I was even grateful the vehicle passed there without an incident.
Everyone kept his thoughts to himself throughout the journey. Everyone seemed to suspect that the other could be an insurgent. If one of us was, and intended to attack the vehicle, how would we know?
Security in Chibok was heavier. Whole area remained deserted as parents and relations of the abducted school girls were indoors mourning their calamity. Chibok is draped in fear and mourning that would not disperse until the kidnapped students return.
Hunger Looms In Chibok
Chibok, a farming community runs the risk of hunger. People are not going to the farms for two reasons – they are mourning their missing daughters and fears of further attacks persist. Their neighbours in Damboa were attacked at home and then in their farms. They too have stopped farming. Where would their food come from without farming this year?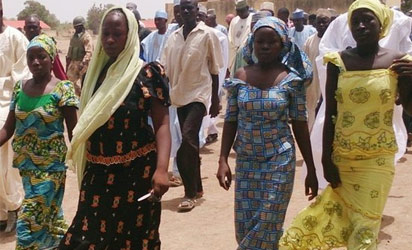 The journey to infamy started for Chibok on 14 April when some gunmen attacked a government secondary school occupied by girls who were writing their West Africa Examination Council examinations. Details of how they were taken vary from who is telling the stories, which no longer interest the parents.
All they want is to have their children back.
Mallam Chiroma Usman Chibok, seven of his relations were abducted said, "My brother, Chibok is a shadow of itself as most parents stay indoors to mourn their abducted children. Government is not helping matters. We keep getting assurance our abducted would be girls.
"It is the farming season, but nobody is going to the farm. The trauma is too much for us."
Mr. James Yama said, "We are suffering in silence, one of my brothers, Mr. Mutai Hona, whose two daughters were among those abducted, died last Sunday from heart attack. He developed high blood pressure after the abduction."
'We Want Our Girls, Not Relief'
"It will interest you to note that on Sunday, officials of the National Emergency Management Agency, NEMA came to Chibok to distribute relief materials to the victims, but none of the parents collected even soap. They protested to NEMA officials that they want their abducted daughters back. Those who benefited from the relief materials were people whose daughters were not among the abducted," Mr. Yama said. "If we had seen the corpses of our girls, we would have forgotten about them. We do not know what is happening, it is unfortunate". #BringBackOurGirls
'Our Daughters Were In Government Custody'
Mrs. Saratu Pagu Mdurmbula, mother of one of abducted girls said, "Our daughters were at school writing their final year examinations. We believed our daughters were in the custody of the state government being a public school.
They were not abducted from our homes, but from the school. It is unfortunate that after abducting our innocent daughters, government and security operatives are yet to rescue them. We are disappointed. It is not one school girl, but over 200 of them. It would be more appreciated if security agencies rescued our daughters. We were fed up with stories about our daughters, the trauma is increasing".
'Teachers Abandoned Our Girls To Terrorists'
Simon Watila, the father of Godiya, one of the girls who escaped from the Sambisa Games Reserve camp of the sect, said he was out of town during the incident, but immediately called his daughter and she told him the school was safe.
"I called this my daughter in the school, asking where she was. She told me she was in the hostel. I told her they were attacking the town, they have started burning houses.
"I asked if soldiers were with them in school. She said no. I asked about the police she said they were no policemen, but that the school was safe.
"The insurgents were still attacking the town. My daughter told me all the teachers had left; there were no guardians with them.
"It was in the realisation that there was no one guiding the school that I told my daughter to run if she had the opportunity. I told her the insurgents would turn to them when they finish with the people in the town.
"When the shooting started in the town, the teachers were still with them but they took to their heels, and locked our daughters . There are teachers' quarters within the school premises, the teachers left before the attack.
"She even told me that the teachers instructed them not to run away. One of the teachers locked the gate, there was no way for our daughters to escape. When the attackers finished with the town, they came to the school.
"They told the girls they were soldiers and the girls believed them because they were in uniform. They promised to protect the girls from the insurgents who were attacking town. The girls happily came out to them and they seized all their mobile phones. I knew my daughter was in trouble when I called and she was not taking the call. The next day I learnt our daughters were abducted."
He was happy that God answered his prayers for the return of his daughter. If there were enough soldiers around, he said, girls would not have been abducted.
Why Chibok Girls Don't Speak English
People have been concerned that the abducted girls did not communicate in English, in the interviews they granted. They mostly spoke in Hausa. Over 95 per cent of students in public schools in the State cannot express themselves in English, although, their written English is reportedly better.
Some reasons were adduced for the situation, the major one being the poor standard of education and the quality of teachers in public schools across the state. Teaching Service Board officials tend to favour their kinsmen over qualified applicants.
Most teachers in the rural areas and the students prefer speaking their own dialect either in the classrooms or during school hours, making English language secondary.
Governor Kashim Shettima admitted in an interview that, "In 2011 WAEC examinations, only three students at one of the government secondary schools in Northern Borno Senatorial District had five credits, including mathematics and English language. The Three students were not from the State as their fathers were serving soldiers at Monguno Military Barracks".
The Chibok girls reflected the quality of teachers in public schools in Borno State. Chibok, a local government headquarter, has only one secondary school, which also serves people from neighbouring local government areas. Recently, the school, which used to be only for girls, was converted to a mixed school, admitting male students as non-residents.
Who's To Blame
A teacher in the school, Mr. Amos Dawi said, "Apart from the poor quality of teaching materials and unqualified teachers, the students themselves are not helping matters, as most of them devote their interest to farming.
"Chibok and other schools in the state have no English or Mathematics teachers. Rarely would students from JSS I to SS III have these teachers throughout their stay in school. In fact, most of these students are not taught English properly from year one to their final year". An educationist, Dr. James John attributed the problem to lack of training and retraining of teachers by the Borno State Teaching Service Board. The board does not organise workshops for its teachers, especially those in rural areas.
Yakubu Iliya, a student, blamed the teachers. "Where the teachers are qualified, they do not take their work serious because ministry officials hardly supervise them. Most teachers prefer being posted to schools in Maiduguri. The unqualified ones are posted to rural areas, where they abandon their profession for farming and businesses".
'We Don't Want To Speak English'
One of the freed schoolgirls, who did not give her name, for security reasons explained their dilemma in the matter. "Another major reason we are not speaking English is the trauma we are undergoing. It is not because we cannot speak English. Each time we want to speak English to journalists, we feel the terrorists are still watching us, so we quickly switch to Hausa, which is our dominant language in the North without realising it. Only those who have been through what we suffered can understand this. Boko Haram hates anything to do with Western education and the ability to speak the English language is an indication to them that one has Western education".
We're Expecting Mr. President
Yaga Yarakawa spoke on his disappointment on President Goodluck Jonathan' s widely publicised visit to Chibok, which was postponed, though the Presidency had denied that a visit was planned.
"We were happy when we heard Mr. President was coming to Chibok. We expected his visit to Chibok would bring relief to everybody. When the girls were abducted, we thought government would act swiftly, but it is unfortunate that after a month, their whereabouts remain unknown.
"It is really sad, disheartening and disappointing to all of us as parents. This is beyond politics, it is between life and death, so we want our girls and that is what we are after at this trying moment, nothing else".
Shettima Sheds Tears Again
Borno State Governor, Alhaji Kashim Shettima shed tears again on Tuesday as he told the Presidential Fact Finding Committee on the abduction, in Maiduguri, that doubts over the abduction of the Chibok school girls and the theory that the kidnap was staged-managed by his government was as painful as the actual abduction.
The governor said it was a sad tale that Nigeria pays more emphasis on politics than finding solutions to the nation's numerous problems.
Responding to the address of the Chairman Brig, Gen. Ibrahim Sabo (rtd), Shettima said, "Borno has seen evil times. Our people have suffered. The Chibok incident, for me, has grossly exposed our weighty weakness as leaders in terms of assuming our shared responsibilities.
"Doubts over that abduction pained me far more than the childish theory that as Government, we staged that abduction in order to create basis to stop the extension of emergency rule in Borno.
"Then, there was the issue of saying Chibok was not safe and we went ahead to open the school. Majority of these students are from Chibok axis, if the school was considered unsafe, I don't think any right thinking parent would allow his or her child to study in an atmosphere of high risk.
"To every other Muslim, worldwide, these men that kill, destroy and abduct, insult Islam by calling themselves Muslims. They have contradicted every single tenet of the Islamic religion. They have in some cases, tried to change the ordained translation of verses in the Holy Quran.
"To every Muslim, a verse of the Holy Quran has clearly said that there is no compulsion in religion. But to these men of violence, there is compulsion not only in religion but even in Islamic ideology. To these men, any human who doesn't share their ideology deserves to be brutally killed. A Muslim that is of not of the sect is condemned to death and so is Christian. To them, the human race should go into extinction for their doctrine to thrive."
The governor had approved N150 million for the rehabilitation of the 53 girls who escaped, and for assistance to the traumatised parents whose daughters were still held.
"Unfortunately, we had to hold what we should have done for Chibok because of the politics brought in. If we had released some material support earlier, some bad elements would have said we tried to buy the people of Chibok.
"The Borno State Government is committed to sincere and active collaboration with the Federal Government and all other support groups in our collective fight against insurgency.
"I see misconception about those behind the insurgency as one major hindrance to fighting it. So long we continue to look the wrong way, there would be lack of focus on the part of most stakeholders and in which case, the victims would remain the accused."
Earlier, Brig. Gen. Sabo assured that the committee was ready to carry on with the task with absolute patriotism and fear of God. He condoled the people and government of Borno state who have been traumatised as a result of the attacks.
Back To Base
By sunset, Chibok residents abandon every activity to seek refuge in their homes. I left Chibok at 2:15 pm, to a repeat of the security checks that marked the earlier journey, through the same route. I arrived Maiduguri at 5:30 pm to joy that I never knew I could muster. I heaved a sigh of relief, having gone through the most dangerous route in Nigeria and survived the trauma of anticipating an attack that never came.
As I went on my knees to thank God Almighty for seeing me through this assignment, I realised that another trip to Chibok would be necessary – hopefully in happier circumstances, to welcome the girls.