—      BY GBENGA ARIYIBI
THE Head of Politics, British High Commission in Nigeria, Mr. Paul Edward, has given reasons the British Government is showing more interest in the conduct of free and fair election in Nigeria and other parts of the world.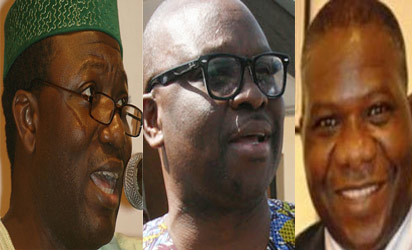 Edward who was with the gubernatorial aspirant of the Labour Party (LP) in Ekiti State, Hon Opeyemi Bamidele at his Iyin-Ekiti country home, on Sunday, said the British Government wants a peaceful election, devoid of rancor especially in Nigeria and other parts of the world.
According to him, only a government that is constituted by the collective desire of the people at the polls can muster the legitimacy to deliver on its electioneering promises to the people.
The diplomat said his visit to Ekiti is not only to ensure the success of the governorship polls but also to strengthen his country's bilateral relations with Nigeria.
His words,"The international community, particularly the British government is interested in the growth of democracy across the globe. So, that is why I am in Ekiti State to meet with all the stake holders on the need to embrace peace for the success of the governorship polls. It is always very desirable to allow the governed to elect who governs them.
They should be allowed to dictate who leads the government. That was why great leaders around the world like Mahatma Gandhi were popular among the masses. .
Speaking earlier, Bamidele, acknowledged the role of the British Government in the survival of democracy in Nigeria and lamented that Nigeria is still operating a nascent democracy after over 50 years of independence.
The LP candidate noted that conduct of election by the Independent National Electoral Commission had always been a source of worry to Nigerian citizens. He, however, expressed optimism that the Commission will not dash the hope of Ekiti citizenry in the June 21 election.