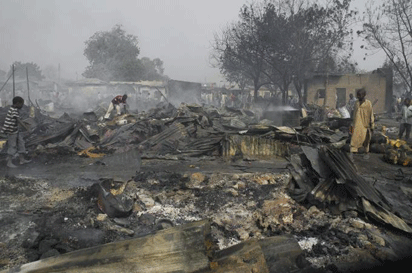 By Kingsley Omonobi & Ndahi Marama with agency reports
MAIDUGURI—Barely 48 hours after suspected Boko Haram terrorists massacred more than 200 persons including students who were writing their Unified Tertiary Matriculation Examination, UTME, in Borno, the insurgents, yesterday, continued their killing spree as they killed no fewer than 60 persons in Ngoshe and Kaigamari villages of Borno close to the border with Cameroon.
The terrorists also set ablaze many houses, shops, telecommunication masts and other property worth millions of naira. This came as the troops deployed to the North Central zone of the country to checkmate herdsmen/ farmers' clashes as well as cattle rustling that has claimed hundreds of lives have recovered a cache of arms from militia men in Kaduna and Plateau states.
Speaking with AFP in Maiduguri, the state capital,  the chairman of Bama Local Government Area, Mallam Baba Shehu Gulumba, said:  "The attackers, who were no doubt Boko Haram insurgents, attacked Amchaka and nearby villages this morning, hurling IEDs (Improvised Explosive Devices) into homes and setting them on fire. They then went on a shooting spree, opening fire on confused residents as they tried to flee, killing 60 people and injuring several others".
An eye witness who escaped the attack in Ngoshe, Mallam Usman Jidda told Vanguard that the gunmen who were sighted some few days back in between the mountainous areas of Ngoshe and Limankara villages carried out the attack without any challenge from the security operatives in the area.
"I thank God for sparing my life and members of my family as we were able to escape the deadly attack. We are now settling with one of my relatives in Gwoza council area. I can confirm to you that more than 30 people were killed by the insurgents in Ngoshe, apart from the destruction of property worth millions of naira", Jidda stated.
The attack in Kaigamari village of Konduga near the state capital according to sources have forced surviving residents to flee the area to Maiduguri on Sunday for safety.
All effort to reach the Divisional Police Officers of Gwoza and Konduga to confirm the separate incidents proved abortive as there was no GSM network service in the two council areas.
The insurgents had on Friday laid ambush for the students who were on their way to Biu from Maiduguri in eight vehicles to write their exams.
The senator representing Borno Central, Zannah Ahmed told newsmen that at least 210 people were killed in attacks that lasted from Thursday till Friday morning. He said the attackers stormed the communities in two armoured personnel cars and seven double cabin pick ups and descended on a Teachers' College in Dikwa, killing seven people before burning down the school library and administrative block. This account has, however been refuted by some authorities in Borno, who claimed that no student was killed in the attacks.
Military recover arms in Kaduna, Plateau
Aside the arms recovered in Kaduna and Plateau states, a huge number of stolen cows and sheep believed to have been rustled were also recovered from the armed gangs.
The arms included six rifles, 25 dane guns, four revolvers and 10 locally fabricated pistols while over 90 cows and 45 sheep that were rustled were also recovered. Another 50 cows have also been recovered from rustlers who attacked herdsmen in another location.
Making the disclosure in a statement, Director of Defence Information, Major General Chris Olukolade said: "The military assault on camps of armed militia men in Kaduna and Plateau states has led to the recovery of arms and some stolen livestock.
"The operations in Dahia Luka, Makera and some communities in Plateau and Kaduna states, resulted in the arrest of three wounded armed men after the encounter in which some of them died.
"Over 90 cows and 45 sheep believed to have been rustled were also recovered in addition to weapons. Another 50 cows have also been recovered from rustlers who attacked herdsmen in another location.
"The recovered cows have been handed over to the traditional rulers in the area while the arrested armed men are still being interrogated. The herdsmen who were wounded by the rustlers are also being treated.
"Meanwhile, traditional rulers in the areas have been cautioned against shielding or harbouring armed gangs in the precinct of their domain in view of the security implications to their communities and the nation at large.
"Armed gangs have been engaging troops in gun battle as the forests are being combed for remnant of criminal elements that have been wreaking havoc in various communities of the North Central".
"Cordon and search of identified locations have also continued.
"In the process, various rifle parts as well as empty ammunition boxes were recovered in Shendam, Yelwa and the house of a suspected arms dealer at the border between Plateau and Taraba States.
"The arrested suspects are among those being interrogated by the Special Task Force.
"Also, one of the militiamen arrested in the outskirts of Jos is already helping with information on his links with terrorists operating in other parts of the country.
"In the meantime, the counter terrorists' campaign in the North East has continued amidst series of encounters as identified make-shift camps of the terrorists are being dislodged in the ongoing air and land raids in forest and mountain locations.
"The presence of famished and unarmed members of the terrorists groups wandering around has been noted in some villages.
"Armed terrorists have however continued to carry out snap attacks on travellers on highways especially between Maiduguri- Damboa as well as Gwoza-Bama highways while others make occasional attacks on surrounding villages, looting especially food items."