BY OLASUNKANMI AKONI,  & MONSUR OLOWOOPEJO
LAGOS—Youths, under the aegis of Kibaku Youth Association of Nigeria, KYAN, yesterday, stormed the office of Governor Babatunde Fashola of Lagos State to protest the continued abduction of 234 female students of Government Girls Secondary School, Chibok Local Government, Borno State by the Boko Haram insurgents and called for their immediate release.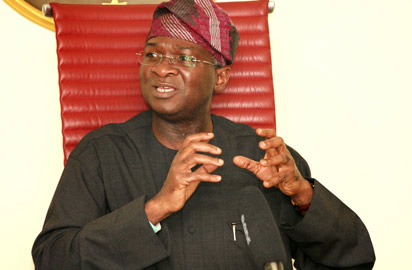 It will be recalled that about three weeks ago 234 female students were initially abducted by the Boko Haram group and taken to the dreadful Sambisa Forest, Borno State, while some escaped in the process.
The aggrieved indigenes of Chibok council, Borno State living in Lagos, stormed Lagos House, Alausa Secretariat, Ikeja, to condemn the abduction of the innocent students after attacking their school in Chibok community.
The protesters, clad in black attire to express their concern over the abduction of the girls, and called on the Federal Government, state governors and the military in the country to get the girls released forthwith as well as end the insurgency immediately.
The protesters displayed placards with different inscriptions, such as: "Education is not a crime, we want our girls back; Bring our sisters; Where are our sisters; Bring back our girls; hear our cries; we love our siblings; 234 innocent lives is too much to ignore; Rescue the 234 Chibok girls now and others."
The leader of the youths, Mr. Moses Zakwa explained: "Though we are in Lagos enjoying the peaceful atmosphere of the state, however, our hearts bleed over this tragedy that has befallen these innocent young girls whom are our sisters, cousins, mothers of the unborn generation and future leaders of the country."
Addressing the protesters, Fashola said; "Your coming here today shows sense of brotherhood and passion for your fellow human being especially children and the Lagos state government is also concerned about the abduction of these girls.
"We are really shock as to the resort to the abduction of innocent young children in our country. Whatever grievances the abductors have, hostage taking is dehumanising."
Subscribe for latest Videos