SOLDIERS KILLED OVERS 50 FULANI INSURGENCE IN A GUN BATTLE IN NASARAWA
By Abel Daniel
LAFIA – Barely 24 hours after the military deployed to contain the recent attacks that has claimed over 200 lives and displaced thousands of the Tiv people of Nasarawa and Benue states, success was Thursday recorded as troops killed over 50 Fulani insurgents in Keana local government area of Nasarawa state in a gun duel.
In lafia, Fulani insurgents numbering 10 were brought to the Dalhatu Araf Specialist Hospital, DASH, Lafia the state capital by a police pickup van and deposited at the mortuary while about 20 others were deposited at the general hospital Keana as well as several others still in the bush.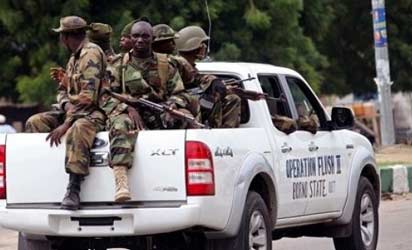 Source told our reporter in Lafia that the military launched an offensive on the terrorist while acting on a tipoff about their hideouts in Maraba Giza and Tse-Azer where they have taken over the ancestral home of the Tivs in the area.
Vanguard gathered that the Keana general hospital informed that the mortuary could no longer contain the number of dead bodies hence the conveyance of the remaining ones to Lafia.
It was further gathered that sophisticated weapons were recovered by the military from the insurgents who were taken unaware during the attack while taken cover as re-strategized to continue their onslaught.
Residence of Keana local government area narrated that the military were seen taken over the town with about four armored tankers in other to ensure that the insurgents had no escape routes.
One of them who pleaded anonymity revealed that: "The military killed the insurgents and were able to recover plenty riffles from them and wonder at the development."
The source furthere said that there had been allegation of terrorist been camped in some parts of the state under the guise of international hunters and wonder whether there are wild animals that warrants the presence of international hunters.
"This part of the state has received and seen strange Fulani faces more than any time in the history of our existence in Keana and environs and we wonder where  they came from because they are not the normal Fulanis that we know." The source stressed.
The source added that "most of these Fulanis that we see don't even have cows and one continue to wonder what are their preoccupation as well as mission in the state."
A military source who spoke to vanguard in confidence disclosed that: "this people (Fulani insurgents) have taken over the entire villages raping children and women and killing, even our men at will and you think we will continue to allow them, no not in anyway."
It is recalled that the Fulani insurgents have chased out the entire Tiv communities from their ancestral communities in Nasarawa and some part of Benue, leaving many taking their refuge in some part of the FCT, Niger, Kogi and Benue as no fewer than 75 women put to bed amidst hardships