•Insist on expiration of 60-year lease agreement
BY NWABUEZE OKONKWO, Onitsha
The metropolitan city of Onitsha, Anambra State was thrown into frenzy last week as owners of a vast expanse of land known as Ogbo family land and located at Woliwo Layout, Onitsha, measuring about 14.69 acres, served a notice of their intention to reclaim the land from the Anambra State government, as a result of the expiration of a 60-year old lease agreement.
The land owners numbering over 100 had stormed the premises of Our Lady's High School, Onitsha in what appeared to be a peaceful procession and asked the school authorities to vacate the premises with immediate effect. This was to enable them take over their land now that the 60-year-old lease agreement has expired since 10 years ago.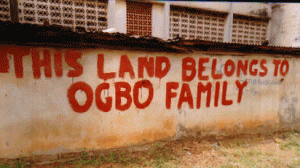 Addressing the school authorities with placards in their hands, the head (Diokpa) of Ogbo family of Umuasele Village, Onitsha, Omodi Obiora Nzekwu,  explained that they leased the land to one Mr. Peter Ejikeme Chukwura on August 8, 1944 for an initial term of 30 years, for the purpose of running a school.
Some of their placards read in part: "Gov. Peter Obi, release our land to us", "We want our land not our Lady's High School", "ANSG, give us back our land", "Gov. Obi, we wand our land not compensation". Nzekwu further explained that along the line, Chukwura established a school initially known as Africa College which was renamed Chukwura High School and finally had its name changed to Our Lady's High School.
He added that when the initial 30-year lease agreement expired in 1974, the lease agreement was renewed for a second term of another 30 years which expired on July 31, 2004.
Contending that they did not grant the lease to the school, but to Mr. Chukwura in his personal capacity, the family head insisted that it was also the intendment of the parties that there shall be no further renewal of the lease after the expiration of the total term of 60 years on July 31, 2004, adding that if there was to be a renewal, it would have been stated in the lease agreement dated August 8, 1944.
Also in their petition to Governor Peter Obi of Anambra state, signed on their behalf by their legal counsel, F. O. Balonwu Esq, the land owners stated that based on the fact that there shall be no renewal of the lease agreement after the expiration, their reversionary interest has remained untouched and unassailable.
Balonwu maintained that since Chukwura was a school proprietor and government took over his interest, it follows that the government could only acquire whatever interest the proprietor had in the land, which is the term of years which ended in 2004. He added that by operation of their reversionary rights, they are entitled to repossess their land on which Our Lady's High School stands.
Describing the state government as an adverse occupier of their land since 2004, Balonwu advised the government to conveniently relocate the school elsewhere, even if it means outside Onitsha urban. He cited a similar instance in 1986 when Rear Admiral Allison Madueke (retd), former Military Administrator of Old Anambra State, relocated the Primary school wing known as African Primary School from the subject site to an eight plots of land at Tagbo Isima Street, Woliwo Layout now known as Woliwo Primary School which was magnanimously provided by them.
An estate valuer, I. K. Iwenofu, therefore, prayed Governor Peter to direct the state Commissioner of Education to respect their reversionary rights and dismantle, vacate, relocate and handover the school site to them in the interest of justice, equity and fairness.
Responding, the Vice Principal (Administration,JSS), Mr. Martin Asoegwu and the Vice Principal (Administration) (SSS), Mrs. Ifeoma Izundu who stood in for the Principal who was not around during the visit, commended the demonstrators for their peaceful method of protest and promised to convey their message to the authorities concerned.