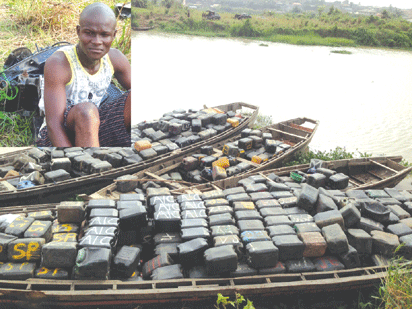 BY EVELYN USMAN
Pandemonium broke out, weekend, along Ikate-Akute area of Ogun State following a shootout between operatives of the Inspector  General of Police Special Task Force on Anti Pipeline Vandalism Unit and pipeline vandals.
A suspected pipeline vandal was arrested, while others reportedly escaped, abandoning five of their operational speed boats with 4,000 empty 50-litre jerry cans.
The vandals, said to be numbering over 12, reportedly stormed the spot apparently to vandalise a Nigerian National Petroleum Corporation, NNPC, petroleum pipeline on Saturday morning, when the operatives swooped on them.
During interrogation, the arrested suspect, who identified himself as Abbey Daniel, said he indulged in vandalism to save Nigerians from fuel scarcity.
He said: "I am terribly sorry. But we did it in an attempt to help Nigerians to get fuel, which has become scarce.
"Since the scarcity, Nigerians have been suffering, particularly artisans. And since there is high demand for fuel in Lagos and the buyers are paying good money, we decided to venture into it. We even sell to owners of petrol stations.
"On Saturday, we came as usual to siphon petroleum product after we received information that NNPC were pumping fuel through the channel. We knew quite well that before the police would get across to the other side we would have disappeared.
How police got us
"What I did not know was that the Police also had got wind of our escapade. When my colleagues started shooting on sighting the policemen, I hid because I was not armed.
"They all jumped into the river and swam to safety. I remained in the bush because I cannot swim. When it was morning, I discovered that my phone was not in my pocket. "I was arrested as I was leaving the scene. All I am asking is for them (police) to have mercy on me."
Assistant Commissioner of Police in charge of the Task Force, Friday Ibrahim, said the Unit got a tip-off that vandals were operating along Ikate-Akute axis of NNPC right-of-way at 1am.
"Policemen, led by the newly-posted Lagos Sector Commander, Deputy Superintendent of Police Samson Olawoyin, cordoned off the area and the vandals who realised that the policemen were on their trail opened fire.
"The vandals absconded when they realised that their game was up and fled. The boats containing countless numbers of 50 litres gallons have been destroyed, while one of the suspects was arrested."