Nigerian midfielder, Michael Olaitan collected his first Greek championship medal with Olympiacos on Saturday as Thrylos wrapped up the title with five games to spare.
Olympiacos defeated Panthrakikos 2-0 at Stadio Georgios Karaiskáki after goals from Nelson Valdéz and David Fuster sealed the win on a memorable night.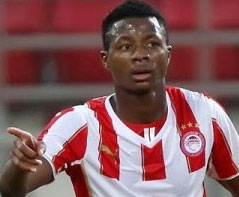 Olaitan was not listed in the game but his efforts earlier in the season and contribution to the cause will be greatly appreciated by the club's supporters, his teammates and manager, Jose "Michel" Campo.
The 25-year-old scored eight goals in 16 league appearances for the club until he was involved in a scary incident that saw him sidelined from action.
On March 2, Olaitan collapsed unchallenged during Olympiacos' game against bitter rivals, Panathinaikos at the Stadio Georgios Karaiskáki.
The midfielder fell to the ground unchallenged during the first half and received medical attention before he was carried off on a stretcher.
The 21-year-old, who was conscious as he left the pitch, was immediately taken to a nearby hospital for tests.
The club have since announced that Olaitan is no longer in danger but the Nigerian is yet to be integrated back into the first team.