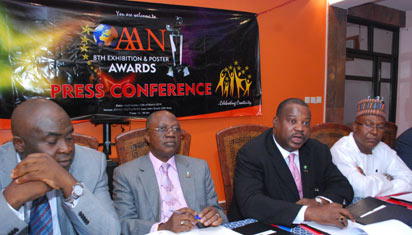 By Princewill Ekwujuru
The Association of Advertising Agencies of Nigeria, AAAN has disclosed that  advertising expenditure for 2013 had grown to  N125 billion from N91 billion in 2012, explaining that the figure represents advertising spend from the organised private sector alone.
The Association said that Nigeria's  economy can do better with sectors like the power, Agric, tourism and  ICT operating at full potential, whilst the advertising industry is positioned for  expected growth.
According to the association the above figure was the advertising spend in 2013 from  Television ad which  amounted to  N66,250billion, Radio N22,500billion, Outdoor N23,750billion and the press N23,500billion which totaled N125,000 billion.
The  Chairman, Publicity Committee of AAAN, Dr. Celey Okogwu, made this disclosure  at a press briefing which addressed major issues in the economy tagged: Advertising and the economy, with sub-heads,  AAAN contribution to the national economy, and how the conference will affect the advertising industry in Nigeria, as well as the Association's nomination to the  forthcoming National discourse.
The Chairman noted that there is a proven link between advertising and the economic growth of a country which, he said will be the major focus of the association at the conference.
He said that the association's business analysis projected that political campaigns in 2014 will greatly increase advertising spend, while the telecom and the banking sectors are expected to increase over the  last year's figure, as a result of projected increase in the banking sector spend due to new banking regime and rebranding exercise.
He further pointed out that over N20 billion will be spent on political campaign, which may, however not pass through the organised private sector.
Okogwu also noted that the licensing of the new DISCO companies will increase advertising spend in the energy sector, while stating that Fast Moving Consumer Goods, FMCG and Small Medium Enterprise, SME.
The association went on to project that the business outlook for 2014 portends some potential for practitioners and agencies.