By Babajide Komolafe
One year ago, Heritage Bank commenced operations as an offshoot of the defunct Societe Generale Bank, inheriting its liabilities. In this interview, Managing Director/Chief Executive of the Bank, Mr Ifie Sekibo, spoke on the impact the bank has made on the industry, how it has coped with the challenges of intense competition, and the tight monetary policy of the CBN. Excerpts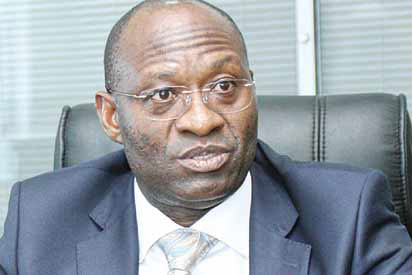 What has been the impact of Heritage Bank on the Nigerian banking industry within its first year of operations?
The greatest impact of Heritage Bank on the Nigerian banking landscape, modestly I will say, is our contribution to the consciousness of channels for distribution of financial services beyond the brick and mortar. It made other banks to see the importance and the need to continually improve on their distribution.
Every one of us, all the banks, suddenly had to rethink their strategies. Because the question was simple, what was Heritage Bank coming to do, if they are not going to have 300 branches that everybody was running for, 1000, highest number of branches, how can they survive?
And it dawned on everybody that the only way Heritage Bank could survive is to drive channels basically on the e-banking platform. And off course they had bigger pockets, so they quickly jumped on it. But, honestly, that has being our modest contribution. And it is interesting.
The second impact, I will take, is the restoration of confidence in the financial sector, that people see a bank go down after about ten years and still have their money come back to them. This gives them hope that Savannah Bank will also come back. That hopes it (Heritage Bank) gives to people, that confidence it engenders in people is very important for financial service delivery and continuous sustainable banking services. I think that those two, I will say is our contribution.
The industry is fiercely competitive. How has the bank coped with the competition?
I have had to say this over and over again, I have not focussed on competition, rather we have focused on the little things we can be able to do, and let competition bother on what we are doing. Like we came out boldly and say we would be looking at SMEs, we want to grow SMEs of our own, we want to empower that sector, and off course the whole market reacted to it.
We said we want to deal with channels; the whole market reacted to it. So the truth is, we have remained focused on the things we can do well and let competition bother about what we are doing.
Again we say we are going to look at different point of presence, that we are going to roll out Automated Banking Centers (ABCs), again the market jumped at it and started looking at how to roll out ABCs, and now some banks are planning to roll out their ABCs, because it is the best way, the cheapest and easiest way to get financial services to the unbanked. So you have to find a way to remain in your position of strength.
And again, we can't compete on brick and mortal. Somebody has about 700 to 1000 branches, and I have ten, and we are in the same market, you can't compete with him in terms of bricks and mortar. If I focus on him I will not do business. So I focus on my little strength, and that is what we have done over the last one year.
Have we gotten to where want to be? Far from it, but we can clearly see the direction which we are headed. As part of our anniversary, we shall be launching our agency banking on the 4th of March. And it is also part of the little things we are doing, to show that it is possible, agency banking is possible.
We need to diversify our own distribution channels; we need to diversify our own revenue base. We run into the market and we said we are not going to charge COT, for some banks, that is 25 per cent of their revenue base, and we say zero and we are just coming in new. Everybody had thought, "You can't survive it", but it is not true, we will survive it, our revenues are growing every day.
 It might not be as astronomically as you want it to be, but it is growing gradually because for us it is not 100 meters dash, it is building a sustainable business, building and enduring legacy. Building an organisation that will outlive us, and so we cannot deal with it as a rush.
My board luckily are professionals, that know their sense of staying consistently on your strategy to build, and making sure that the  back end of your strategy is well taken care off as you build. And I give it to the central bank, they were of immense support to us, they gave us all the encouragement and all it takes in their capacity, closed supervision, very very close supervision. And it is understandable.
Some people say, "Why are they always on us?  I said, it is important that they keep a close eye on us because of where we are coming out from. For the systemic stability, it is important that we don't do anything untoward, but have our eyes set on a longer vision, five years, ten years from now.
We believe, we believe, five years from now, we should be among the first five financially solid banks in the country. And if that is the case, you have to put in place the building blocks now. It will outlive me as a person, but I need to put that foundation in place. And the processes, the structures, and all it takes to have a sustainable banking process have been put in place, it is a business, and we have to treat it as one.
So the bank is not in a hurry?
We are one year, just one year old; some of our elder brothers are over a 100 years. There is no way I can say I am in a hurry chasing somebody who is over a 100 years. This is a business that thrives on trust. There is a fiducial relationship here, it thrives on trust, and it thrives on personal life style and sentiments.
Nobody wakes up one morning and start trusting everybody, the best we can do is show we are worthy of trust. The best we can do it to get people who are not in the financial services space, to be included in the financial services space.
And so for us, one of the beauty of the new way of sustainable banking is financial inclusion, and we seem to feature just at the nick of it, so nobody is old in that space, we are all new but what we have as an edge above others is our newness, we can take it on as a viable, new project, without causing the gorillas in the system to overwhelm the new
What is your experience with SMEs?
Our experience with SMEs is that they are a group of people that are well driven in terms of ideas, in terms of how to turn their ideas into product services, wealth creating opportunities. But there are certain ingredients that are lacking.
One, because of the way we are traditionally structured, that one man must own everything, and so rather than work in partnerships and in teams, people like to go it alone. That makes them very un-bankable, that makes them high risks, and it makes them easily default when they are looking for funds, in fact they are unable to access capital to fund their projects.
What we then did to overcome that challenge is to create what we call a SME Clinic. What does that do for them? It makes them know that there is a lot of value in partnership, there is a lot of value in knowing what your business requires to survive and what you require to survive. Your business and you cannot be one and the same person.
And so there must be separation. Then off course, we brought in some persons, some organisations that need to train and give them comfort so that they can be more organised and they understood some those challenges, which hitherto had been something they see as only for the big organisations. Then they began to access capital. And I tell you they pay, they pay, they even pay more than the big ones.
But in that space, because they are so many, it is easy to have one or two that still want to remain with the old ways. And they don't represent the totality of the SMEs. They don't. I consider those ones as been the minorities. And when we have one or two of such cases, we just either explain to that person why we go through the route or you will lose a life time opportunity of being great. initiatives.
And what have you done in terms of  e-payment platform?
Modestly, we did invest a lot in I.T, and like I said, that is one of the strategy we brought to the platform, that what you are thinking about, it is not just a thought thing. It must be the way of life. So for us, our e-payment platform is the way of life.
It is the only way we have been able to stay in the industry and in the market in the face of all the competition. That we are participating in every activity that every bank could undertake have been because of the robustness of our e-payment platform. It is very robust and we intend to improve on it.
Heritage Bank came into the industry at a time of monetary tightening. How has this impacted the bank and what has been the response?
I will say it the way it is. The impact has been very severe on us as a bank. We have had to struggle most times to deal with it. Given what  we inherited from our predecessor organisation, they were very heavy in public sector. So the residue of what we took was largely public sector.
But we also know that it was not sustainable to go in that direction. So we went out seriously to do the SMEs. You see when you are on space of SME; you are not worried too much about CRR. But that does not mean we did not feel the impact, all of us felt the impact. It is a major drain to our liquidity.
That is on one side. As a national economic goal of curbing inflation, of defending the naira, of dealing with exchange rate issues, what was happening was also not sustainable. Where we take public sector funds and go and buy treasury bills, and borrow the same money to the government who gave the money to us.
That business model is also not sustainable for the country. Should it be a CRR of 75 per cent, 100 per cent of 25 percent, it is neither here nor there. For me, that is my  personal opinion, can we diversify our revenue base as a country.
The real sector has to work and if we were deploying the public sector fund to the real sector, then it is a veritable option to keep, allowing the public sector funds stay with the banks but if we are just moving it into treasury bills, then not. Should we have policies that enable us move that money into the real sector?
Maybe that would have been a better way to look at it. But don't forget that there are a lot of pros and cons for each of what I am saying, and I would not claim to be an expert in it. I will only suggest that we need to weigh all the options.
What is your outlook for the bank in the next 12 months?
I am sure it is public knowledge that we are one of those in contention to acquire Enterprise Bank. And it is important that in the next 12 months, our dual approach on where we are going to. One, we have an organic growth plan, that in the next one year, we do hope that we achieve 30 branches, organically.
We are growing on our capital and what we have. The inorganic option is where we have organic fit, which we believe we do have. We should not shy away from it. We want to make that move because of the strategic fit, because we have been through restructuring and reorganisation of this, and the government and current management of Enterprise Bank in restructuring and putting that organisation together.
We don't want a misfit or a mismatch in that space. And so, we are not shy to say we are fit for it. Now that judgement, as to whether we are fit for it, why we think we are,  is left for those selling to say Heritage Bank is fit or not. We have made our case, they will announce publicly those of us that are .., but we are not hiding that we did bid, and we have always said we will bid, and we bided.
If we achieve our strategic acquisition drive, then we would have shorten our five year projections almost in one year, achieved that in one year but if we don't achieve the strategic acquisition, then we would follow through with our five year projection, of which we think this year we hope to achieve 30 branches.
So that is just a given. I mean you have to plan on all the cylinders you have, and we have. The beauty of who we are is that we have been through this kind of things before. It took us nearly three years to achieve Heritage Bank from SGBN. So if it takes us another one year to achieve another bigger and stronger Heritage Bank, with an Enterprise bank in the tow, we would be glad but if not, we still will grow.
Because right now we are also planning the EGM that we are hoping to get immediately after our one year anniversary, which will approve that we raise more capital to be able to continue our strategic intent.
And how soon are you going to be listed on the stock exchange?
At least we should be running for three years before we get on that platform. So we believe that within three years, we should have good financials and all that, and met all the regulations to be on the stock exchange.
Apart from capitalisation, how important is it to your strategic intent that you list on the stock exchange?
When we were coming in, we made some promises to the shareholders that we have to have an exit strategy for some of them that are not willing to invest very long, saying we would be at the capital market to enable them have an exit strategy.
It also gives us a clear pricing for our net worth, for what we are worth, believable one. We can give any valuation to our self but the market would be able to better assess if we are in the market alongside our peers.  Those are things the capital market offers us. It is better that we hold our self to those higher ideals which the capital market is also going to hold us to. We would become much more transparent in reporting our numbers, and they would be in the public domain for anybody to see.
Those things that investors are willing to see, they would be able to see, as against being a private company. If my shareholders choose not to do certain things, but as a public company we are compelled by law, though as a bank, we are bound by certain rules and regulations to be transparent and meet all the reporting standards that are required.