Coach, Stephen Keshi has praised Super Eagles and Stoke City forward, Osaze Odemwingie as a great player and professional whose character is not out of place.
In a down-to-earth interview with cable network, Aljazera, Keshi said that he cannot disqualify him from playing for Nigeria. "If he's stubborn, that doesn't mean he can't play for the national side. He's stubborn because of the way he was talked to or the way he was approached," Keshi told Aljazera.
Excerpts:
Al Jazeera:  Brazil 2014 is on the horizon. Nigerians are excited. You've set the bar high by winning the African Cup of Nations. What are your expectations for the summer?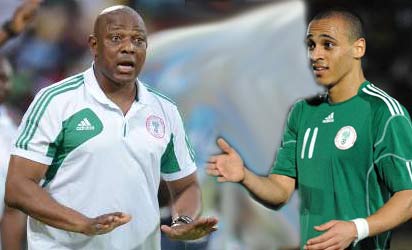 Stephen Keshi: I just hope that my players are in good health. That's key for us. Before the Mexico game [friendly], I lost Bright Dike and I would've loved to have him there. Now he's out of the World Cup. After that, I'm just going to take it match by match.
AJ: Every player has glowing things to say about you. How does that make you feel as coach?
SK: I wasn't aware of that since we've never been that close that we talk about such things. I'm very transparent with them. My oldest son is 31 so most of them could be my kid's age. I have to be honest with them. I tell them the way I go about life beyond football because after they leave the sport, they need to know there's another life, a very complex one, ahead.
AJ: What has been the key for you because they've had clashes with Nigerian and foreign coaches in the past?
SK: I have an open communication line. I talk like they're all adults. You must listen to them, you must respect them. They appreciate that.
When I wanted to bring in John Obi Mikel,  I left him out. I told him he had problems with Nigerians, he had the big-player mentality. He called me and said he'd like to come back to the national team but I refused and hung up.
He called back again and asked me to hear him out. I told him I was trying to build a team and these players were respectful, they gave their hearts out. They wanted to play for Nigeria and ensure the team does well. You won't do that for us, we don't need you, I told him that.
His agent called and I refused to talk to him. So Mikel called back again and I said let's talk. At that point, almost 80% of Nigerians didn't want to see him in the national squad. And I told him that. But I also took the risk and he agreed to the conditions. Ever since then, he's been a great professional with great attitude in training. He's a different Mikel and I told him to enjoy his game and have fun.
AJ: How did that work?
SK: We're open. There is no superstar in this team. Everybody works for one another. You have 170 million people in Nigeria and if you leave, there will be somebody else to take your place. Everybody thinks anyone playing abroad is ready and is a great player but that's not true.
AJ: Last time we spoke, before the World Cup qualifier against Ethiopia, you were sure about 80% of your team composition. Is that still the case?
SK: It's still a good number but that doesn't mean that if I see one of two available players, I won't bring them in. If they're better than the ones I have, I will include them.
AJ: There's a story out there that you were critical of Ikechukwu Uche?
SK: I don't want to go there again. I've talked extensively about that and I don't have any bad feelings with him. My aim is the national team. I'm responsible for that. Nigerians have entrusted me with this job. I have to do what I have to do. I want to move ahead and talk about players here not the ones not in the camp.
AJ: Peter Odemwingie, does he fit into your system?
SK: Why not?
AJ: So you're saying there's a chance Odemwingie might be a part of your 30-man squad?
SK: He's a Nigerian, isn't he? And he's doing well.
AJ: But Peter, allegedly, is a very stubborn player. He has allegedly had problems with every coach he's played for.
SK: We're all stubborn. It's just how we manage the player. I just need to be able to manage the player and that's it. Odemwingie is a great player and a great person. If he's stubborn, that doesn't mean he can't play for the national side. He's stubborn because of the way he was talked to or the way he was approached.
AJ: So I'm hearing that Odemwingie will be a part of your 30-man squad?
SK: I didn't tell you that.
AJ: Joseph Yobo?
SK: Maybe. He's playing in one of the biggest leagues in the world.
AJ: But you have a great centre-back pairing in Godfrey Oboabona and Kenneth Omeruo?
SK: I know that.
AJ: You're lighting fire underneath your players because you're telling your starters that they're not guaranteed a place.
SK: There are no guaranteed shirts for anyone. You have to work hard to play for me.