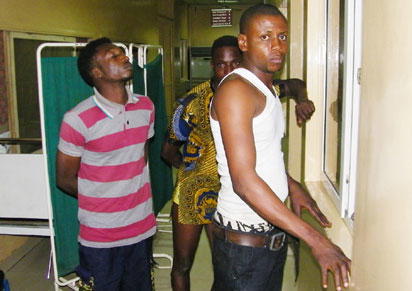 By MONSURU OLOWOOPEJO
Survivors of the boat mishap, which capsized at 6th Avenue Canal, FESTAC Town, Amuwo Odofin Local Government Area, yesterday, recounted how they cheated death and how other passengers died in the ill-fated canoe.
The residents, however, demanded that the council construct a link road from 6th Avenue to 4th Avenue, to ease their movement to the Lagos Badagry Express Road.
About 13 persons died in the boat mishap on Tuesday night, with only five persons surviving the tragedy.
The survivors are Samuel Ochina, Joseph Essien, Mene Temisan, Daniel Peter and Etukufot Godfrey.
When Vanguard visited the survivors, Temisan was gloomy and all he could do was sigh.
Speaking to Vanguard, Joseph Essien, who was mourning his friend, blamed human error for the accident, saying "if the passengers had taken the boat boy's warning, maybe the tragedy would not have occurred."
He added that what also hindered the victims of the boat mishap was the state of the canal: it is very deep and swampy.
While explaining how the boat capsized, Joseph, who is in his late 20s, said: "When we were about leaving home on Tuesday, there was an early morning downpour; which I could say was a sign of what would happen.
"We were contemplating not to go to work. But the owner of the work we were about going for called my boss several times, demanding that the job be done that day.
"So we waited for the rain to subside then we  left."
Joseph, a water treatment expert said: "After completing the work, we all packed our tools and left for home.
"On our way home, my friend Ochuko, as if he knew what was about to happen, was at this time full of joy and we all joined him in giving thanks to our Creator.
"At the river bank, we met the ill-fated canoe waiting for passengers. Rather than enter, we allowed those who came after us to board the canoe. The canoe left and returned to convey me, co-workers and my boss.
"Originally, the boat boy demanded that he wouldn't pick more than 13 passengers. But he yielded to the demands of the passengers because they jumped into the canoe and begged him.
"Some of the new passengers claimed they wanted to go home on time and they couldn't wait for the canoe to return.
"After they all entered, the canoe failed to move and all efforts by the canoe boy proved abortive. He sought the assistance of those still at the 6th Avenue shore to push the canoe to make  it  sail.
"Few minutes after the canoe sailed it begun to swing and water entered inside. Within seconds, the boat had capsized.
"I knew I wasn't a good swimmer. All I relied upon was the little knowledge I had gained while swimming in pools.
"I would have drowned because I had a bag on me where I kept my tools. Immediately I discovered that the bag was hindering me from gaining access to the shore, I removed it and swam to the water's edge where the bystanders assisted."