Hon. Khamisu Ahmed Mailantariki represents Gombe/Kwami/ Funakaye Federal constituency in the House of Representatives. He was, against all odds, elected under the defunct Congress for Progressive Change (CPC) in 2011 before the party joined the merger that gave birth to All Progressive Congress (APC). In this interview, he bares his mind on issues surrounding the party vis-a-vis his problem with   the state Leader of the party, Senator Mohammed Danjuma Goje, saying Goje should be called to order by the party's national leadership. Excerpts:
BY LEVINUS NWABUGHIOGU
How is APC doing in Gombe State?
APC is doing great to some extent but we have some  challenges which, if care is not taken, the desired result will not be achieved. You are aware that former Governor  Danjuma Goje has joined us and as he was joining, we gave him all the support because we built this party from CPC, ANPP and ACN to what it is today. At that time, he was the governor of Gombe State and it is on  record that we fought him tirelessly.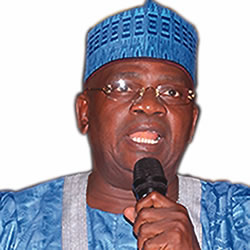 We faced a lot of challenges to even defeat him as a sitting governor to have the seats that we have today in the emerging parties in the state and National Assemblies. We have three members in the state House of Assembly. Goje did all he could using his power as a governor to frustrate us.
But because the people of Gombe especially my constituency  are very comfortable with us, they elected us with a very wide margin. And now, considering the situation he found himself in the PDP, we thought we were giving him a  home where he could come to add to what we have to help us build a stronger APC. But based on what is going  practically now, it is clear that he has not come to build this party but to take revenge over the defeat that he suffered in 2011 which,of course, our followers will never accept. They are all crying.
We all supported him to be our leader but the action he took from the beginning by selecting members of nPDP over those of the merging parties shows it is old PDP versus nPDP. For us in the opposition who built APC, we sacrificed our individual parties' certificates, our offices to make APC what it is today, but we are getting nothing. What happening now is that Goje has hijacked everything with a few of his boys. It is clear now that they have an agenda to destroy our reputation first, that is why you see them all over the media attacking us.
Sponsor
For example I sponsored CPC from the day I joined in 2010 till date. I paid for all the offices. During LGA elections I bought forms for all our contestants across the state. I printed posters for all of them with their councilors across the state, gave them financial support, branded vehicles for campaigns, provided 26  motorized boreholes that cost me N7million each, some areas hand pump boreholes,  solar streetlights, scholarship.
More than 25,000 constituents benefited from me directly, but non of these achievements could be heard from either Goje or his men to boost this party.  Instead they concentrated on  trying to dent my image because they have  hidden agenda. But the people know all these and the appreciate my efforts. That is why they are with me all the time. They constitute  the APC crowd in Gombe  and now they are crying for justice. This is causing a lot of problems in Gombe.
No followers
At the grassroots, Goje does not have followers. All the people that were following him in PDP stayed back when he defected to the APC. The only people on the ground now are our supporters who were in the opposition for over a decade.  Goje still has the attitude of the PDP where they don't go in line with the rules. They don't follow the rules and regulations.
These things started from the beginning. He went and constituted the interim management committee and took four of the five seats that were supposed to be shared among the legacy parties. We started complaining and the APC NEC came to our rescue. They said it should be reviewed to go in line with the guidelines of the party; to carry along members.
But he worked with the some national leadership members to ensure they didn't review the  Gombe situation whereas they have done that of Adamawa. Subsequently, he came in  with something we are not familiar with: that there is a need to constitute an interim management committee at the local government level which is not in line with the party guidelines.
But before you knew it, he single handedly  nominated people known to be our political enemies especially to those of us that were elected. He picked them to be our chairmen at the local governments. That is what is happening now.  His own is not to take this party to victory but to revenge because he still thinks that we defeated in 2011.
Isn't Goje the APC leader in Gombe State?
Yes, we supported him to be. We have no problem with him leading us if he is going to lead us right but with his kind of leadership, I don't think any of us or our supporters is okay. In fact, that is the main challenge we have in Gombe State now because a lot of political stakeholders, our elders, responsible leaders, none of them wants to associate with APC simply because of Goje's presence. He style of leadership is dictatorial. A lot of people want to join the party. They are with us but they are questioning his presence. So, his position as the leader  is not good for the party but, as a member, no problem because a lot of people are running away from us.