By OJIEVA EHIOSUN
As the Stephen Okechukwu Keshi-tutored Super Eagles prepares to hit Brazil for the 2014 FIFA World Cup in June, Nigerians have continued to express worries over the ability of the Keshi–led technical crew to weather the storm weather without the presence of a sound technical person to help read matches when the chips are down.
In this interview, ex-International Arthur Egbunam speaks on the need for Eagles to have a sound technical man that can help Keshi out in time of crisis. He also explains why Silvanus Okpala is better than Daniel Amokachi in Eagles technical crew.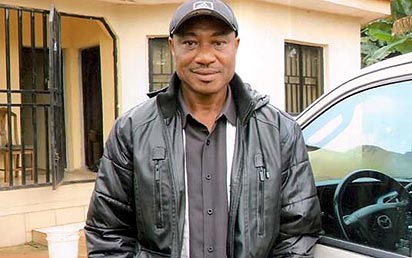 World cup build up
I think Keshi is not doing badly when you talk of build up for the World cup in Brazil. we just have less than three months before the fiesta, and Eagles have played a number of friendly games, which if you ask me I would say are not just enough for a team going to the world cup. Look the World cup is not for rookies, it is for senior boys, and so no coach would want to go to such world event to fail.
For us to do well, we need to go extra- mile in our preparations, Keshi needs to cry out for help he should be able to tell Nigerians where the problem is, because he can not tell me that it is all going well with the team. There are a lot of things to be put in place before you can boastfully say that we are ready for the show. There should be more friendly played with Grade A countries and clubs, our defense is a big problem, also he needs good intelligent and experienced strikers and a mid field marshal that has control of the mid field.
Present day football needs players that can use their brain. The Argentine forward and probably the richest player in the world Lionel Messi is what he is today because of the way he makes use of his brain on the pitch of play. Present day player in the national team lack such attribute. The FA must give their all to this team if they expect some thing  good from Keshi and his team. Of course you know that there are no two ways or magic to it, if they want to get the best, they must be ready to give their best to the boys. I'm not too ok with the level of preparations we need more that this.
Okpala and Amokachi
In all ramifications as far as this game is concerned, there is no way you can put Silvanus Okpala and Daniel Amokachi in the same group technically, Okpala is better than Dan Amokachi. I have interacted with many Super Eagles players during and after the 2013 Cup of Nations in South Africa, Silvanus has more technical in put. Let us put ethnicity aside, Okpala was instrumental to keshi leading Nigeria to winning that prestigious trophy in South Africa.
When you talk of the experience, Okpala has it more than Amokachi. Again all the teams Amokachi has led in the past as head coach, what has he come up with look we must face the reality Stephen Keshi needs Sylvanus Okpala more than Amokachi in the Eagles technical crew. He has more contributions to make to the success of the team.
You see the reason why most of our coaches don't do well is that they do not want to learn, whether you like it or not, Keshi needs a technical man be it white or black it does not matter. Samson Siasia won't have succeeded without the help of Kalika. The world cup is the pinnacle and zenith of all football events, so any coach or country participating at the world cup should be ready for serious war and challenges. So if I were Keshi I will tell the FA who I want to work with. Eagles crew have not gotten some body that can help read games when the chips are down. Is either the FA recall Okpala or go for some one else.
During CHAN tournament in South Africa, if you watch our game with the Black Stars of Ghana,you will know that we have a long way to go. And they must do some thing about it now before we go to Brazil to disgrace the entire country.
Osaze and Eagles squad.
I think a lot has been said about Osaze Odemwingie and nor invitation to the national team. Osaze is a very fine and committed player no doubt, among his team mate, he is the most business like player. He does every thing with his full mind, and very experience and intelligent when it comes to handling the ball. So Keshi does not need a prophet to tell him that he needs such a player in his world cup squad.
He is in charge, he knows what he needs to excel. I do not want to waste my head on t6alking about that any more. He his my friend I will always give him my support but if he allow himself to be messed up so be it. After all his successes so far, he has carried the glory alone. If he want to fail at the World cup fine and good. What I know is that he should be ready for criticism should he fail to deliver.
World cup is not a place to test players. And if any body thinks that we are in the easiest group, that would be deceiving himself. The game of football is going scientific big names of countries are no longer threat. We must put our house in order before going to Brazil. It is my wish for us to make the finals, but we must work hard to make it.
Subscribe for latest Videos