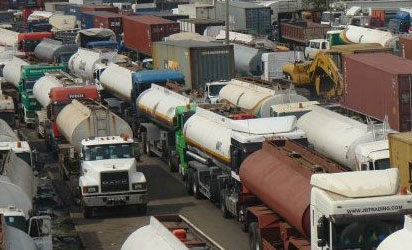 BY MONSURU OLOWOOPEJO
FOllowing the spate of road crashes in Lagos state, Governor Babatunde Fashola has called on the truck drivers and operators to embrace better business model and be safety conscious while driving.
Addressing the truck/articulated vehicles operators, Fashola lamented that in spite of the Lagos Road Traffic Law 2012, the truck drivers had remained the major causes of accidents in the state.
The governor however urged the truck owners to ensure  that all their drivers visit any of the five Lagos State Drivers Institute, LASDRI centers to acquire new driving skills that will enable them to drive safely.
Fashola lamented that low life expectancy in Nigeria is caused by unsustainable business model adopted by operators, saying it is better for them to move their goods at night rather day time.
He blamed the recurrent road crashes incidences on failure of the drivers and operators to obey the traffic law.
The Governor, who decried the manner in which the truck operators messed up Apapa axis, said the poor environmental condition of the axis should not be excuses for driver to defecate in the public.
"When we went there with the Taskforce chairman, parts of the dirts we removed from the place were human faeces, which I think shouldn't be found there", he said.
Governor Fashola, however urged the operators to cooperate with the state government in order to enjoy government's policies, adding that the policies are meant to improve living condition of everyone in the state.
He said; "I appeal to the operators of articulate vehicles and haulage  businesses to co-operate with us so that we can serve you better.  Anybody could become victims of these crashes and traffic gridlock, it could be anyone. It could be your son, wife as anybody could be victims of some of these unsafe practices
The governor also decried attitude of Nigerians towards change, reiterating that the growing low life expectancy in the country is due to avoidable crashes which, according to him, claim lives of innocent citizens.
"You have to talk to your employees and other stakeholders in this business to adopt a safer business models, we can't allow you to continue to kill our citizens. We have a duty to protect lives and properties," Fashola added.
Earlier in his remarks, the Commissioner for Transportation, Kayode Opeifa said the road accidents involving the truck call for urgent actions to be taken, saying the meeting was designed to find a lasting solution to the road crashes caused by the articulated vehicles.
"We believe if we are able to talk to you, you will adopt a safer model of going about your businesses. We can't allow people to die of accident involving your men. Besides, you damage our infrastructure a lot. These are reasons why you have been invited to deliberate with us on the solution to these road crashes," Opeifa said.